It has been a couple months and a few thousand more miles since we published our initial Geolandar review and not a whole lot has changed. The Yokohama 37 x 12.5 R 17 Geolandar G003 M/Ts barely show any signs of wear, they are still a very quiet off-road tire and aren't showing ANY signs of irregular wear.
Approaching 10 thousand miles of use, without a rotation, they still look brand new. I was able to gain a little more pavement traction out of them by lowering my normal air pressure to 28 psi. That comes with a minor hit in gas mileage.
Rocks & Grit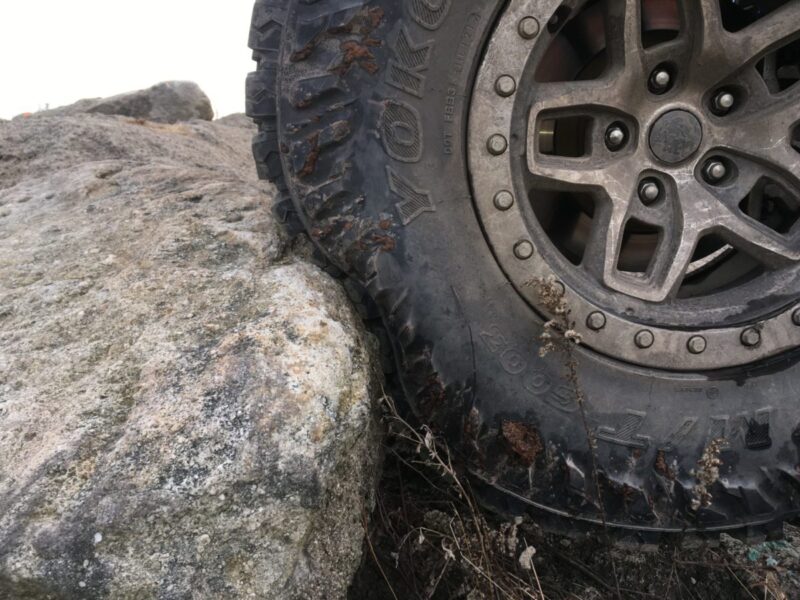 Anyone that has wheeled in central Pennsylvania knows that there are plenty of rocks to deal with. You get everything from big boulders to fields of rock gardens, sharp rocks, and scree. Each presents their own traction challenge and risk. Other tires we have tested over this type of terrain left with significant gouges in the side wall, chunks ripped out of the lugs, and slashed tires; it's no fun riding on a wheel rim back to the trail-head. In our earlier review, we mentioned the durability of these tires. The proprietary GEO-SHIELD technology that is built into this tire truly shows its worth when traversing these types of terrain. GEO-SHIELD integrates steel belts, multiple sidewall plies, a full nylon cap, and a high turn-up carcass resulting in an extremely resilient set of tires. For lighter vehicles, this will make them feel stiffer than you might be used to. If your bead can handle it, consider lowering the pressure you would normally run off-road so you get a little better tread wrap around the rocks. We were testing these with a set of bead lock wheels so I was able to find a sweet spot without fear of slipping a bead. I typically run 15 psi when off-roading but I found that 10 worked best for me with these tires.
Mud
Just a small disclaimer here, I am not talking about mud bogging or charging through the epic Florida mud courses; you know, the 2-4 feet deep combination of clay & dirt milkshake with high RPM tires slinging slop a mile high. No, I am talking about mud and clay that you typically encounter on the trail. It looks like a harmless sort of wet patch and forward progression suddenly becomes questionable. We all take lines just a little differently but I certainly experienced following a line that some other tire struggled on only to pass through the obstacle with relative ease. The lugs seem to do a good job of keeping clean and really biting into whatever it can. As mentioned before, these tires are strong, and the compound doesn't have much give so when you start spinning, it's like a new carbide saw ripping through dried out pine. With a little forward movement, there is a good chance the tire will scoop its way through but if you stop, you will dig a hole and settle on your frame quick!
Wrapping it all up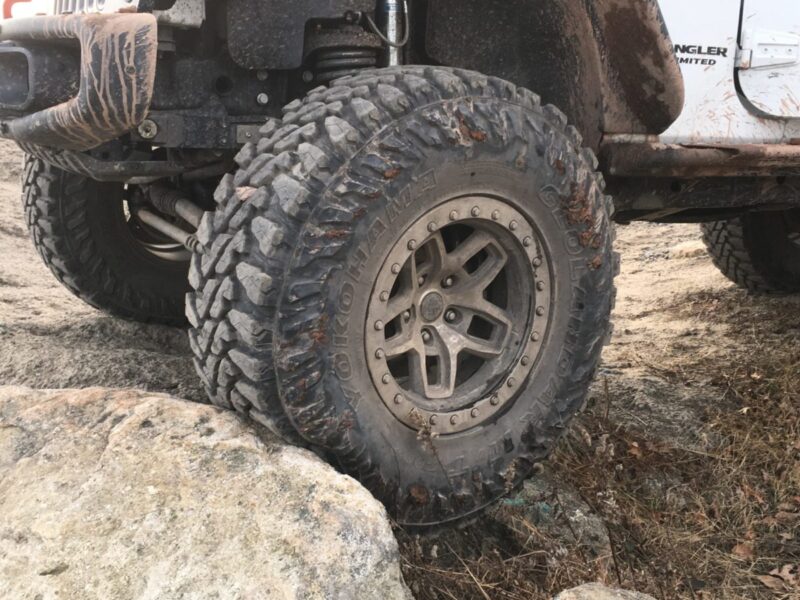 The Geolandars are a set of tires that perform well in a variety of environments. Whether you are crossing the pavement or going on a long haul overlanding trip, these will do well for you. Their strength gives a reliable and dependable ride through most any condition. We haven't had a chance to test them in the snow yet but based on the rest of our observations, I expect to find comparable results. All in all, it seems this tire may not excel at one type of terrain over another, but it truly will handle them all.
Editors note: We briefly touch on the sidewall strength in both articles. I wanted to point out that these tires are exceptionally stiff. At the 28 PSI mentioned above, you cannot see any sidewall deflection. It's even more apparent when parked next to another tire at the same pressure. It's not a knock on the tire but it is a noticeable difference in ride and sidewall flex.
SaveSave