For the initial build of my 2017 Jeep Wrangler Unlimited Rubicon Recon, I knew that I wanted to test out American Expedition Vehicle's Dual Sport lift system. As I was browsing other AEV products that I may be interested in, their Borah wheels really stuck out.
Beyond their appearance, what really drew me to the Borah wheels was the configuration range. If you are working on a tight budget, you can buy these wheels and mount the tire normally. Later, you can buy the rock rings or bead locks to upgrade your wheel. If you go with the rock rings, they simply bolt in place without messing with the tire, offering a sleek look and lots of wheel & tire protection. If you decide to get the bead locks, just pop the outer tire bead, install the bead lock ring, and enjoy all the benefits of the rock rings plus the ability to air down significantly with no fear of slipping a bead. After running these for 12K miles, I am really happy with the decision to give these a go.
Rock Ring
Beyond all the function that the rings provide, it also makes it easy to refresh an already attractive wheel. After several trips on the rocks, my rock rings are starting to get dinged up. I consider that "custom engraving" but if I ever wanted to sell them, simply removing the rings will make the wheels look like they just came out of the box again. For those that like to dress up their Jeep, painting the rings prior to install would be a snap. For the wheels themselves I went with the Onyx Black with Machined finish and I get compliments on them ALL the time.
Wheel Specs and Features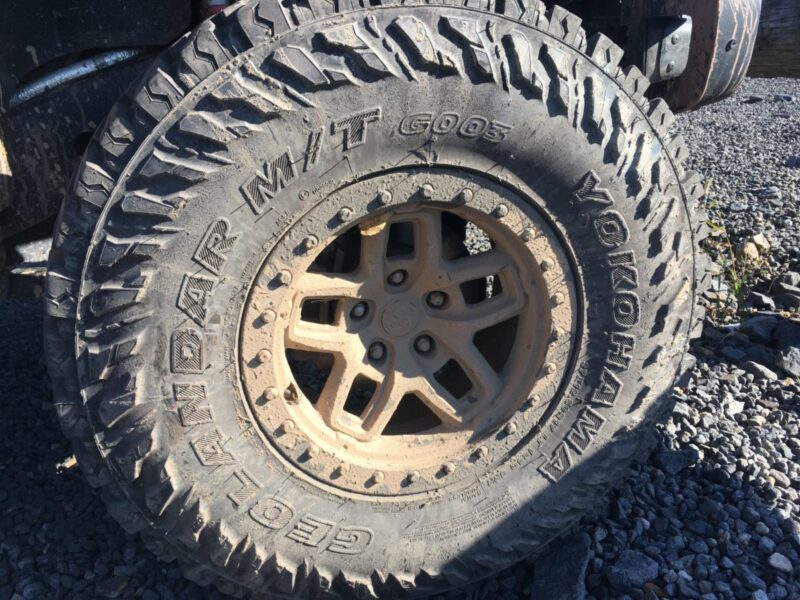 The general tech specs list a size of 17" x 8.5", +4mm offset, and 4.59" backspacing (Wheel Dimensions explained here). It's worth mentioning that unlike several other aftermarket wheel options, these wheels are hub-centric and mount to your axle just like the OE wheels do (hub-centric explained). There are a few more off-road features that really show attention to detail on the part of AEV. The pockets for the lug nuts are recessed, providing a great deal of protection for them BUT the pockets themselves leave room to fit a thin wall socket easily. The air stem is also recessed quite a bit. I went with short stems to maximize protection and the valve cap doesn't extend past the rim lip or the recess. It's a little bit of a pain to get your fingers in there to take the cap off but if you use an air chuck that anchors on the stem, inflating and deflating is no problem. It's also worth mentioning that the interior wheel space is large enough to easily accommodate a big brake kit. We installed a massive set of calipers and oversized rotors with no clearance issues whatsoever.
Maintenance on these wheels is really straight forward. Some wheels have so many nooks and crannies that it seems to take forever to get them clean. The way AEV chose to detail the wheels makes them look great but it is still very easy to spray them off and quickly wipe them completely clean. The only extra maintenance that these wheels require is checking the bead lock bolt torque every month. I spend about five minutes per wheel per month and have yet to find a bolt that was overly loose.
NOTE on running AEV bead lock rings: AEV recommends using the bead locks off-road only; they require extra maintenance to stay safe. They point out that even though the bead lock configuration is FEDERALLY compliant with DOT regulations, buyers are reminded to check their state laws as they may be stricter.