No matter what type of off-the-road travel you want to do your suspension is one of the most important parts of your vehicle. Most modern suspension systems made today are coil springs and shocks or coil over-spring suspension that requires a compromise between on-road and off-road performance.
This can lead to some compromises when setting up your vehicle for multipurpose use.
Trailering
If you haul a trailer behind your off-road rig you need the right rear spring rate to handle the extra weight and prevent excessive squat under load. At the same time, you need the vehicle to ride comfortably when not under load, you want it to still ride level, and it still needs the ability to cross obstacles with flex and traction. We want all of this from a wound spring that has a fixed rate. Even a dual-rate spring is stuck with the two rates it was wound with.
Heavy Load
I separated these categories, but in reality, the compromise is almost the same. For those of us who pack out a ton of gear to set up base camp and then travel in a radius around that base camp to explore what nature has to offer us. We once again need a compromise between load holding and comfort, and that fine line between too soft for one, and too stiff for the other.
A Different Approach
Before I get into the alternate option I want to point out the obvious. There are many different companies and many different coil spring-based suspension systems that work very well at making the compromises discussed above. The point I am making is there are better solutions that combine several of the systems we want on our vehicle-assisted adventures into a complete solution.
On-Board Air + Air Springs = AiROCK
Off Road Only is a Minnesota-based company that builds a complete air spring suspension for Jeep Wranglers that allows you to compensate for load, terrain, and comfort at the touch of a button. They are the OG of off-road air suspension for your Jeep.
The system consists of 4 air springs, 4 height sensors, the AiROCK ECM, 4 specially tuned shocks, and the control interface. You need an air supply for the system to operate with a small 1-gallon tank.
Off Road Only sells a kit using a York-style compressor that's engine driven for a 100% duty cycle and in the case of a JK drives directly off of the harmonic balancer pulley.
The system is designed to fit a stock JK using the stock geometry and will fit a 35-inch tire right out of the box. A jump to a 37 will require adjustable control arms to center the larger tire in the wheel well.
How Does it Work?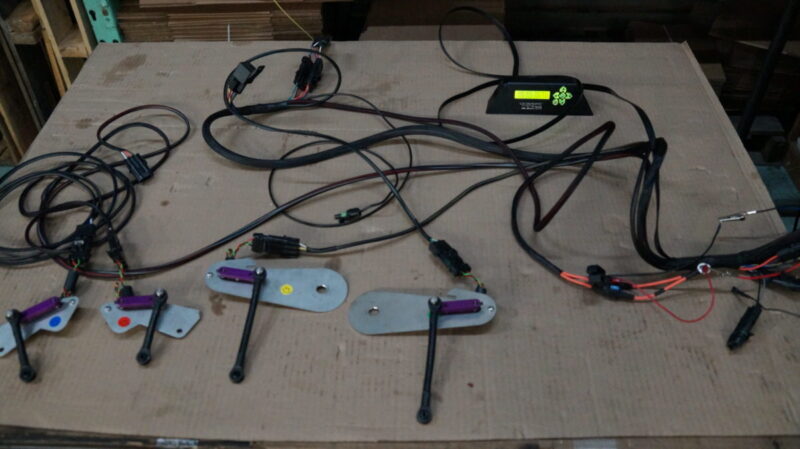 Using the 4 height sensors to set the minimum and maximum travel the system has 4 corner adjustability within those extents to give you more control over your suspension than you ever thought possible.
Below 30MPH the system is fully manual control. It will auto-level a load when you select a preset height. For example, if you are at the lowest setting for parking egress and select to go to the on-road height the vehicle will level any load present so that each sensor is at the proper reading. Pretty handy if you are constantly changing people, gear, or trailering.
In manual mode, you have the ability to raise the vehicle, lower a single corner, one side of the vehicle, or the entire vehicle. You can also still use the preset ride height selections for on-road and off-road. Think about the sketchiest side hill situation you have been in, then think about how it would have been if you could have lowered the vehicle on the side going up the hill and left the low side at the higher lift height. At the body traveling level, you and your passengers are comfortable with less risk of rollover and giving maximum traction. How about an obstacle that normally you couldn't clear with your 4-inch lift due to the belly hitting? You would sidehill climb and angle it so you could traverse. With the AiROCK you just add some lift height and roll right over.
Above 30 MPH the system is automatically controlled to maintain a flat, level ride height regardless of load, passenger configuration, and vehicle attitude. The system will balance the springs under hard driving to maintain a flat-level body even under the most aggressive corners on twisty back roads.
It's like driving on …. well air. You lose all of that mechanical resistance that coils have with air springs. Air springs do not store kinetic energy that can unload on you and send you tumbling. In fact, the shocks are valved differently from normal shocks, and these shocks are designed to limit travel with integrated bump stops. I don't know all of the specs and rightfully, ORO doesn't share that proprietary info.
Cost Comparison
Depending on your system the AiROCK is on the higher end of the suspension cost spectrum. $5495 is the ticket for the full system. Normally I would count the onboard air in that total cost but many of us in this hobby either already have one or are going to install one.
For comparison, the AEV Dual Sport RS Suspension with a 4.5-inch lift is $2325. Considered the gold standard in this category it is still a compromise. One of the best compromises on the market but still a compromise. Prior to installing the AiROCK, I had been running a 4.5-inch ICON Vehicle Dynamics Stage 4 suspension, retailing for $5723 it represents the pinnacle of a coil spring suspension with large diameter 2.5-inch remote reservoir shocks and top-end components. It still isn't capable of making the adjustments that a system like the AiROCK can.
In the end, the cost justification cannot be explained in words written in this article. The real cost analysis is what those abilities mean to your travel and daily driving experience.