When you buy a 2500 series truck you generally plan to use it. The fact that most come with tires designed for maximum fuel efficiency and low rolling resistance is ridiculous. The amount of premature wear that occurs with even minimal towing means you will replace those stock tires in the first 20,000 miles or less.
Using my truck for daily driving and moderate towing before I reached 15k miles the 4 stock tires were completely worn out. Just basic towing and daily driving the rear tires were wearing rapidly and the tires HAD to be rotated very early on. Towing duties consisted of an 18' trailer with a 2-door Wrangler on it. The question became what to replace those factory tires with.
We primarily needed a tire appropriate to handle the truck's work capabilities and minor off-road use. With that limited criteria, we set about finding the ideal tire for our needs. Through our multitude of contacts, we found out Continental was introducing a light truck all-terrain with a 10 ply tread, load range E, and was it's very first tire of this type ever produced. Color us intrigued. What we got was a set of Terrain Contact LT 275/70 R 18 load range E tires.
Installation
I guess it makes the most sense to start with the install but there isn't much to say. The tires went on with no issues at all and balanced with only a couple ounces per wheel if any at all. For someone used to struggling with balancing oversized off-road tires, this was a very welcome surprise. No repositioning of the tires on the wheel was needed and positioning any needed weights was a one and done.
Noise & Appearance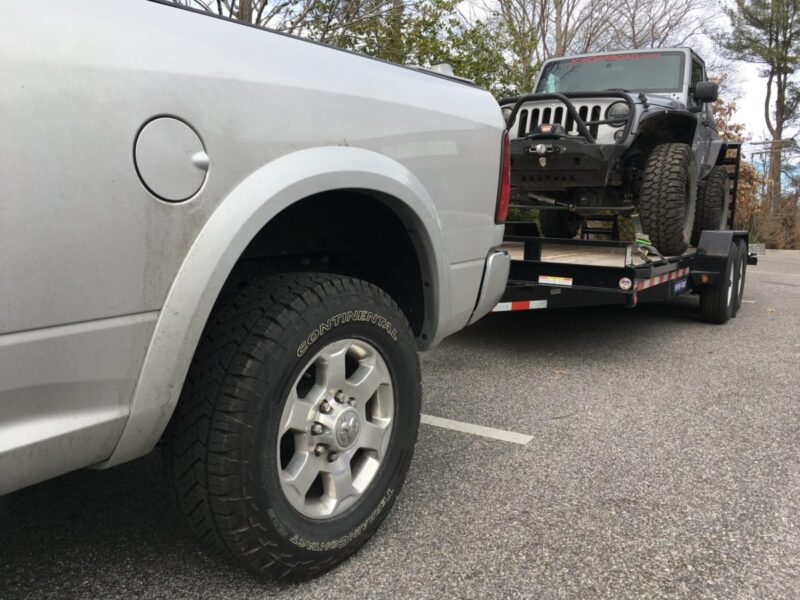 You always expect a little more noise when putting on a nice set of all terrain tires. To my surprise, I was unable to notice any change at all from the stock tires. The Continental's definitely have a much more aggressive look to them, deeper tread and you would expect more noise. The noise that should accompany the upgraded tires just isn't there. Depending on your preference, you can mount the tires so the white lettering is outboard or inboard. We put the letters out for some old school nostalgia. Who doesn't love Bleche White?
Handling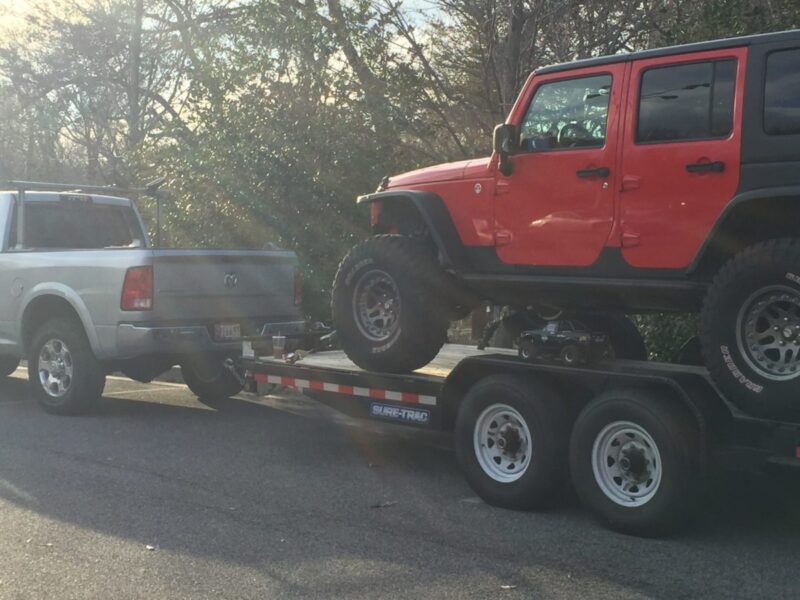 Perhaps the biggest difference to the stock tires was how well overall traction improved. The tires were installed in December right before a long trip to Maine. On several back roads, there was ice, snow, and wet slush all over the place and instead of having to worry about traction I was able to concentrate on just driving. The tires held firm to the asphalt and not once did they surprise me with a surprise loss of traction. The truck always felt connected to the road changing lanes, during braking, and accelerating with no problems. I was left with the impression that the tires were doing exceptionally well but couldn't be sure since you obviously adjust your driving style in such conditions. Later when I was on local roads I use regularly I was completely convinced that the traction differences were truly impressive. I picked a few corners that I knew really well and rolled through them with no issues where the stock tires would have slipped.
Wear & Tear
My biggest take away with these tires is how well they have endured extensive towing. These tires were installed on the Ram once the stock tires had 15500 miles on them. They had already been rotated several times and they were completely worn to the wear bars. Those miles included a trip to Maine from Maryland with a 2 door jeep in tow and a handful of other short tow trips. The stock tires I just spoke of don't even fall into the same ballpark as the Continentals. At 28000 miles, with no rotations, the tires had worn perfectly even across the tread. The rears measured at 10/32nds and the fronts measured at 14/32nds. The measurements reflects a much longer trip than the stock tires towing a built 4 door wrangler over 2400 miles. We purposely towed more with these tires to see how much abuse they could take.
The short of it is, these tires were simply unbelievable. For an all-terrain, they were unexpectedly quiet, performed exceedingly well under the rigors of all kinds of weather, and took the abuse doled out by a Cummins Ram and thousands of miles of towing…all without a rotation. After 13000 miles of heavy use, they were not ready to be replaced, just rotated….finally.
Warranty and More
Continental warranties their tires for up to 72 months, they offer roadside assistance at no charge and they offer road hazard coverage which could result in you getting a new tire in the first 12 months! You can read all the details right here…
Editor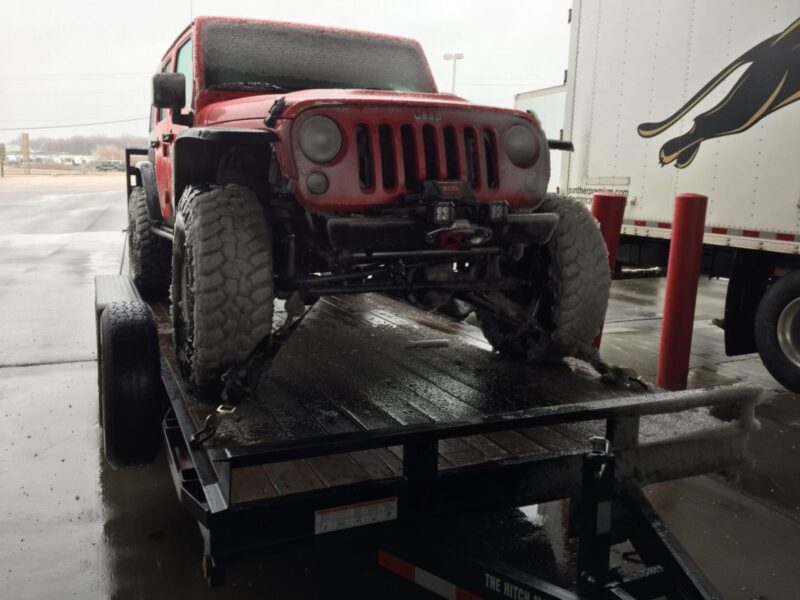 I had the good fortune to spend some time with these tires on that long trip to Minnesota. We drove through rain, snow, and Chicago. I added Chicago because it is at least its own weather center and definitely the most expensive bridge I have ever had to pay to cross.
I digress. I thought about the tires on this trip only because I am paid to think about them. The mark of any good accessory is how little you think of it as it just does the job it was installed to do. In the case of the Terrain Contact AT tires, they were completely forgettable, and that's an amazing thing. Knowing your tire will stop, start, turn, and roll allows you to focus on driving safely, monitoring the trailer, and arriving safely.
In the end we both rate these an excellent buy. Above average traction, wear, and stylish looks all combine to make these an excellent value. You can get yours here Terrain Contact.
SaveSaveSaveSave