After 5 months and a few thousand miles, it's time to share how the Skyjacker 2.5″ lift has performed on our Gladiator. (Part Number GB251PBLT)
Ride quality – basic dirt roads to highway.
Jeeps inherently ride better and perform better on dirt. The Gladiator is no different.
On the asphalt, the ride can be a little stiff. It's my opinion that the ride is stiff because it was set up to carry more weight than a box stock Gladiator. Currently, we aren't running any aftermarket bumpers or a winch, so the springs ride high in their travel.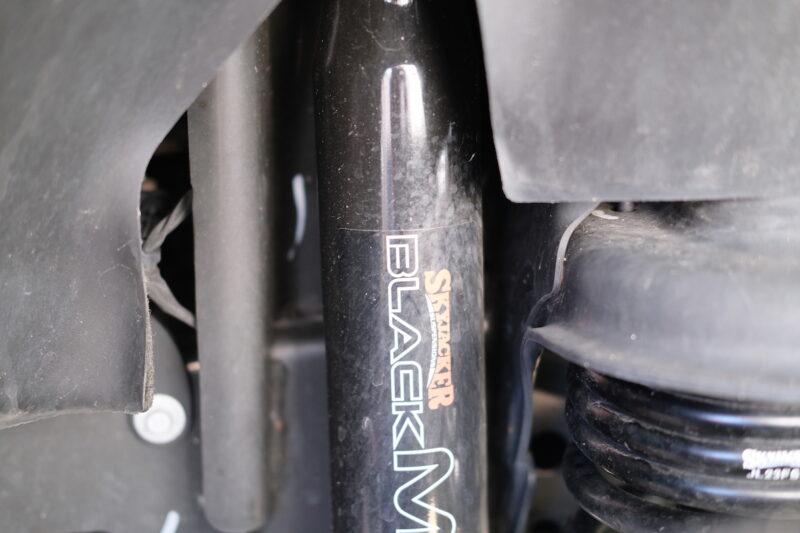 I developed this theory when I hooked my trailer up to the truck and the ride was transformed into a buttery smooth on-road experience. The goal is to add some heft to the Gladiator with some aftermarket bumpers and see if that's truly the case.
When you hit the dirt the Gladiator finds it's footing. The slow steering becomes far less of an issue, the suspension cycles smoothly and does a good job of absorbing the bumps. With a little more weight on the springs to take some harshness out of the ride things may border on the sublime.
This would be a good suspension setup to run with a loaded overland setup. The extra load would put the suspension right in the upper third of travel, just loaded enough to get the most out of the springs and shocks.
Things I would upgrade.
I plan to add front and rear adjustable track bars to the setup. They aren't needed to correct geometry as much as give added strength to the truck. Both stock track bars are far too flimsy in my opinion and contribute a great deal to the loose and vague steering.
I'm not sure what bars we will run yet. Too many options to decide. The JL currently has the Synergy front track bar and the rear is a factory bar with a relocation bracket. Those will be changed shortly to a Clayton Off-Road adjustable front and rear track bar setup.
Skyjacker offers a front track bar in the taller lift kits but it's not currently available for purchase separately.