My wife has had her Gladiator for a while now and we still haven't found a tonneau cover that suits our wants. Most sit too tall on the bed rails and look terrible. Last month we needed to take a 9-hour trip and had no way to protect our stuff.
That's when I got my hands on the Audew Waterproof Roof Top Cargo Carrier. I used waterproof bags extensively when I rode and reviewed motorcycles for years. I had never really used them with 4-wheeled vehicles but this seemed like a good time to give them a whirl.
Non-traditional use.
The Gladiator does not have a roof rack at the moment but it does have the factory bed rail system and of course an empty truck bed. I loaded up the luggage, backpacks, extra shoes, and whatever else we didn't need easy access to and rolled out.
Cargo carrier construction and install.
Durable material, constructed with three layers to protect against sun, rain, wind, and dirt. At 15 Cubic Feet, the carrier provides enough capacity for 5 medium-sized suitcases.
The soft sides flex to fit odd-shaped loads. When not in use the carrier folds small enough to store underneath the vehicle seat or on a shelf in your closet.
Product Specification:
Dimensions: 44x 34 x 17
Color: black
Weight: 5 pounds
Storage Volume: 15 cubic feet
Material: heavy-duty 500D folder grid
How to use?
Quick and easy installation. Place the non-skid, anti-scratch pad on the vehicle roof. Place the cargo carrier bag on the protective pad. Load your belongings inside the bag. The straps loop over the bag and around the roof rack rails. Each corner is adjustable to allow you to tighten them around different sized luggage or odd-shaped loads. Tighten and secure the cargo carrier to your roof rack with the included 8 reinforced straps. Tug on straps to test that they are firmly attached
Package Includes:
1 roof bag
2 Cam-buckle 2" Wide straps
Non-skid, anti-scratch pad
1 storage bag
An extra 15 cubic feet of storage space
How did it perform?
Bottom line the bag performed exceptionally well and did its job.
First the not so good. The construction is robust, the problem is the color. It's black. Black material absorbs heat. It was almost 100 degrees at various points on the trip. That means you should not pack anything that is sensitive to heat inside the bag. Change the bag color to white or silver and this thing would be perfect.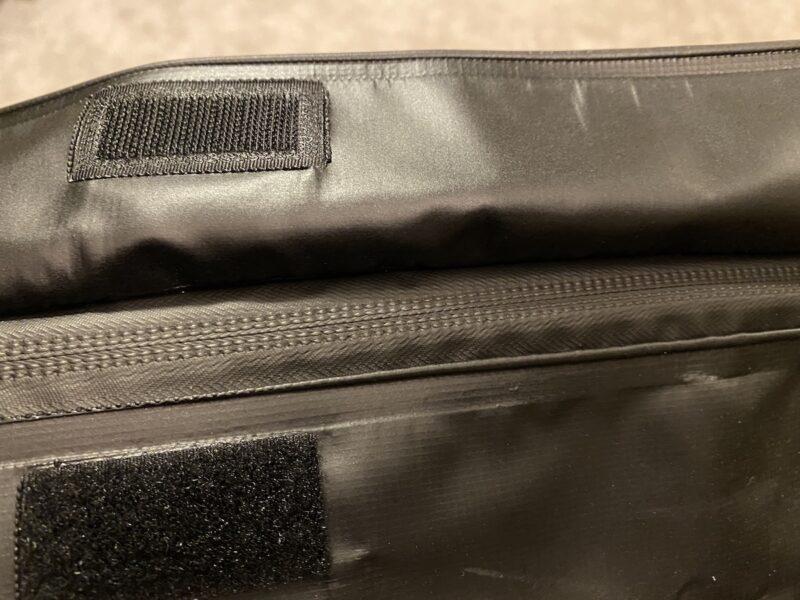 Except for the bag color, it really is a great cargo carrier. The zipper seal is high-quality and not some dainty zipper that's going to break after a few uses. The zipper is sealed and then covered by a large weather flap. I would recommend installing the zipper away from the direction of travel to maximize its protection from the elements.
We drove through some torrential storms both going and coming back and everything was dry as bone in the bag.
What would I improve?
As I said above my first choice would be a lighter color to reflect the heat. The second would be to offer some alternate straps so you could have more mounting options. This probably isn't going to be a big selling point for most but having the ability to tie it down without a roof rack or in a truck bed would offer some extra versatility.
I rate this a buy.
I give it a solid buy rating. The material is good quality, the bag should last a few years with moderate to even heavy use, and the price is $52.99 making it very competitive in the market. You can buy yours here Amazon for 15% Off until July 13th use code: 4WAMAUDEW (Discount price: $45.89)