Review – JCR Offroad Mauler and Crusader Bumper
Regardless of whether you own a Cherokee or Wrangler from any generation; If you are looking for a modular, highly customizable and capable bumper system, you want to seriously consider looking at what JCR Offroad has to offer. These guys are much more than brilliant YouTube artists. They put out impressive front and rear bumper systems that are capable of meeting any Jeep owner's configuration needs. It wouldn't be possible to review all of their possible bumper configurations so I'll just share my experiences with their Deluxe Mauler front bumper and Crusader rear bumper.
Overview
Initial inspection of the Deluxe Mauler Stubby Front Bumper with Grill Hoop set a great first impression. The lines on the 3/16" CNC cut steel plates were clean and free of any rough edges. All of the plate joints were perfectly seam welded and ground leaving it with a sleek outer appearance. The tube work on the bumper was of equal quality; the welds and bending were spot on. Other key features that are worth mentioning include the ¾" shackle tabs, recessed winch plate, and cut outs for much safer High Lift Jack lifting points. I chose to add the front skid plate too which offers added protection to the front end from that stump you didn't see on the trail or a pesky Prius at the mall.
I had the same observations for the Crusader (JCR's mid-width) rear bumper. The finishing was excellent, lines were smooth, and all the features were well placed. Just like the front bumper, the rear has cut outs for the High Lift Jack that make lifting much safer. It also has cut outs that will allow installation of 3 x 3" LED Cube Lights. Finally, the bumper is tire carrier ready but comes with a plug in case you prefer a body mount carrier system.
Installation
Installation of the front and rear bumpers is very straight forward and the directions are well organized. If the printed directions aren't quite enough, their installation video does an excellent job of walking you though the process as well.
A bracket is provided for the vacuum pump relocation and the front bumper attaches to the existing plates that the stock bumper was bolted to. A big pro about the JCR front bumpers is their compatibility with big winches like the Warn ZEON and Power Plant. I cut out a small corner piece on each mounting plate (on the frame), exactly as the directions called for, and had no issues dropping in my 10S ZEON. Also, the provided front cover plate is reversible to accommodate offset winches.
For a very reasonable price, JCR also manufactures the front bumper skid I mentioned above. Installation is a snap and the parts lined up extremely well. As my pictures clearly show, they did a great job transitioning the lines of their bumper to the contours of the skid plate.
Finally, the rear bumper install benefits from the same type of streamlined directions. The only tricky part of the process is making sure that you line up the drilling template properly for the nut strip. As long as you subscribe to the measure twice, cut once methodology, you won't encounter any problems. As promised, there is no need to mess with your towing receiver at all. Again, if you are unclear on any part of the installation, just take a couple minutes and watch their installation video.
Time for Wheeling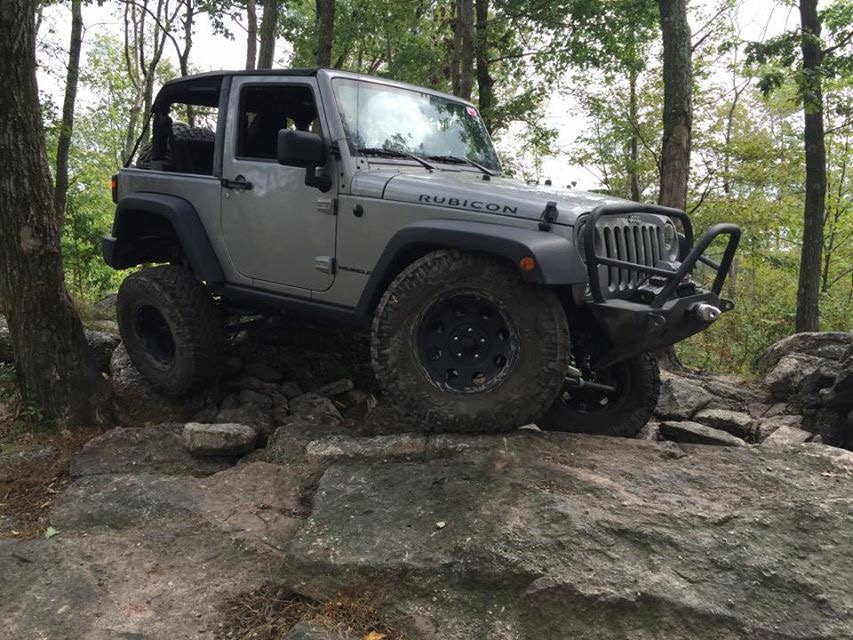 I have had the chance to do quite a bit of wheeling since I installed these and couldn't be happier with my bumpers and the front skid. The stubby gives all the room you could need for larger tires in the future and completely clear approaches to big obstacles. The winch mount and shackle tabs on the front have certainly proven their worth in some pretty exceptional recovery operations. Also, I have heard other Jeep owners complain about grill hoops impeding available lighting from your headlights. I run TruckLite's and have had no problems seeing at night even with the grill hoop on my Mauler.
Both have held up against trail impacts but the rear bumper has done especially well. After rolling off a high obstacle, I hung the Jeep off the rear bumper with the only notable damage being some scratches to the powder coat. I am glad I chose the mid-width because that impact could have been the end of my passenger rear corner.
There are always cons though. The grill hoop comes close enough that you will have to loosen the front bumper if you want to remove the flimsy plastic grill. If you are putting in new head lights, you may want to save yourself some trouble and swap them before you install the bumpers. Finally, if you don't want to be bothered by others admiring the look and asking you where you got your bumpers, these may not be for you.
Options worth mentioning
As a final note, JCR Offroad also provides a variety of options for your bumpers. Light brackets, license plate relocation brackets, winch block off plates, and a sexy JCR fairlead for synthetic line are just the beginning. Most significantly, tire carrier options are very well developed. I haven't tested one of their systems yet but they have two bumper mounted systems, a recently released body mounted system, and an anchor system for the interior cargo area.
Again, regardless of the type of Jeep you own, JCR is certainly worth the look for your bumper needs.