We just love new tire reviews around here. That fresh tire smell, the excitement after mounting a new set, the anticipation of how they will handle all of the terrain we throw at them.
With those thoughts running through our heads we recently installed the brand new Falken WILD3PEAK M/T on our Jeep JK. Don't worry we didn't ditch the Interco TrXus, just moved them over to our silver 2 door.
Like always we will start with the on-road review. Since the mud never comes to you it pays to know how your tires will handle the trip to your escape and not just when you hit the trails.
Initial Reaction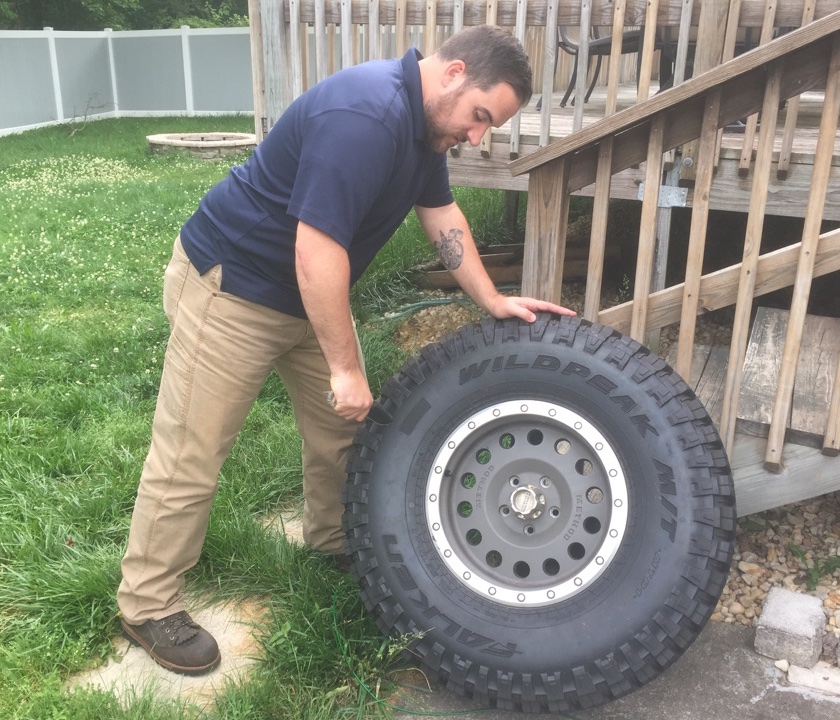 Frankly, initially I hated these new tires. They felt rough, they didn't handle very well, the balance was terrible, and I wanted my old tires back. Go ahead, search the internet and let me know if you find another review that will mention things like this.
Because we can't just take them off, throw our hands up, and declare a set of tires to be complete garbage we went to work trying to figure out the issues.
The first issue was the installer. Not every shop is capable of mounting large tires, even fewer shops are capable of properly balancing them. The Falken tires took a bit more weight than expected but once we found a competent shop they balanced nicely and corrected many of the initial issues we encountered.
The Jeep had developed a drift to the left after the install as well. We thought the tires might be to blame and after rotating them, checking the alignment and everything else under the sun the simple solution presented itself. One of the features of our lift from ICON Vehicle Dynamics is a gas charged steering stabilizer. It's an awesome part, however, it can exert pressure on the steering since it isn't passive. Once this was removed the steering returned to neutral and the real review could begin.
Since this a new tire we are going to spend a few words talking about the tech built into it.
Features
Yes, this is a bunch of marketing speak that means almost nothing in general terms. There are a couple of items I think are really interesting and I will point them out when I get to them.
The tires use Falken proprietary DURASPEC three-ply sidewall. The tread lugs feature a stepped design for stability and added traction. Ridges molded between the tread helps prevent punctures and are design to move the mud out from between the tread lugs. Aggressive sidewall protection that adds traction and protects from punctures. Here's the thing… I could literally copy and paste this section into any mud terrain tire review, it's that generic and the feature set is so ubiquitous that without them you don't have a mud terrain tire.
The one feature I did really find interesting is what they are calling "heat diffuser technology". They are ridges molded into the bead area of the tire to keep the rubber cool even when you are towing or carrying heavy loads. This is something I have not run into before and certainly, is an interesting possible advancement in tire tech.
Wet Traction
Decided to start with wet traction as the East Coast has been under water from constant rainfall for roughly the last two months. We recently set a new record for consecutive days of rain. Sure is handy if your tires can handle the wet when that is all you have.
With that background knowledge in hand, what can I tell you? The WILDPEAK M/T has a similar thin profile to our previous tires. This works really well when you hit standing water, they resist hydroplaning and give plenty of traction when the roads are wet. Acceleration, braking, and turning are all above average for an M/T tire. They border on the same capability as the Michelin street tires on our Grand Cherokee. That's saying something for a 37-inch tire.
Dry Traction
If a tire cannot give secure and safe traction on dry pavement or dry gravel they shouldn't be on your vehicle. The Falken WILDPEAK M/T deliver as you expect. Neutral handling, even consistent feel, and feedback that lets you know where the limit is.
Road noise is on the low end for a big mud terrain with a little hum but nothing your radio, or wind noise doesn't overcome. I would rate them just slightly noisier than stock Rubicon equipped BF Goodrich KO2.
Snow
Nothing to report here yet. We will update this when we find some snow to play in.
On Road Verdict
Whether you are a mall crawler or have miles to cover on a regular basis the Falken WILDPEAK M/T can handle it. Particularly when you can find these for as little as $326 a tire for a 37/12.50/17 at Discount Tire. That's a steal when compared to others that retail for $400 or more.