If you ever wonder why good parts cost so much, the answer often comes in multiple parts. Research, design, development, and acceptable compromises. The more you put into R&D and development and the fewer compromises you accept the more money anything will cost. Few lift systems justify their cost as well as the Clayton Offroad JK Long Arm kit. Let's talk about some of those design features:
3 Section Cross-member – The long arm system will require replacing the cross member on your JK that travels underneath your transmission. This three section cross member serves as the front lower control arm mount which gives a great deal of distance for the arm angle to be as level as possible. The arms are mounted on the outer sections so they do not have to be touched if you need to drop out the middle section for transmission work. The entire system is designed to allow a bolt-on install but mounting hardware can also be welded in place to increase strength. A note on skid plates, even though Clayton Offroad offers their own armor, they made sure that your stock transfer plate can still be mounted.
Control Arms – The lower control arms, front, and rear, are made of square tubing for added strength and durability. These things are so strong that Clayton actually offers a lifetime warranty against bending or breaking (whole system, not just arms). The front control arms extend from the cross member and branch to the upper and lower factory mounts on the axle. The rear arms are mounted to Clayton's frame brackets and the upper arm tubes are bent precisely to provide consistent travel and pinion angle throughout articulation.
Joints – Clayton uses forged 2.5 inches Johny Joints to help with clearance, durability, and reliability. All of them are easily grease-able and thread into bulletproof welded in arm ends. Those arm ends are fitted with flats to help you get enough torque on the jam nuts. An extra touch some more, and less, expensive kits don't have.
Options – Some of these options are actually required depending on your wrangler. For example, 2 doors will require the rear adjustable track bar. Clayton has front and rear adjustable track bars, full armor for engine, transfer, and gas tank, and excellent mounting brackets. These options are top-notch too. Several builders prefer using the Clayton Offroad axle mounts when doing custom builds and their armor system has been credited time and again for how well designed it is. One review even said the seams were so good that you couldn't fit a piece of paper between them!
On Road
So this is probably the part you are more interested in…how does it ride?! On the post-install ride home, I immediately noticed a huge difference; it was like a totally different vehicle. High speed felt smooth and grounded instead of that "hovercraft" feeling that you can sometimes get with lifted vehicles. Where the suspension really blew my mind was how well it did hustling around corners. I hit several corners that I knew well and kept increasing the speeds that I took them with little to no body roll. Two testimonials are worth mentioning here: 1) a friend of mine was used to driving my Jeep quite a bit and, after test driving a stock JKU, his very first observation was how "loose and wallowy" the ride seemed. 2) Another friend of mine (that has worked for GenRight, AEV, and dealers spanning over 20 years) really put the system to test. He came back from the test drive with quite the look of surprise and said that is was the best riding two-door he has EVER driven!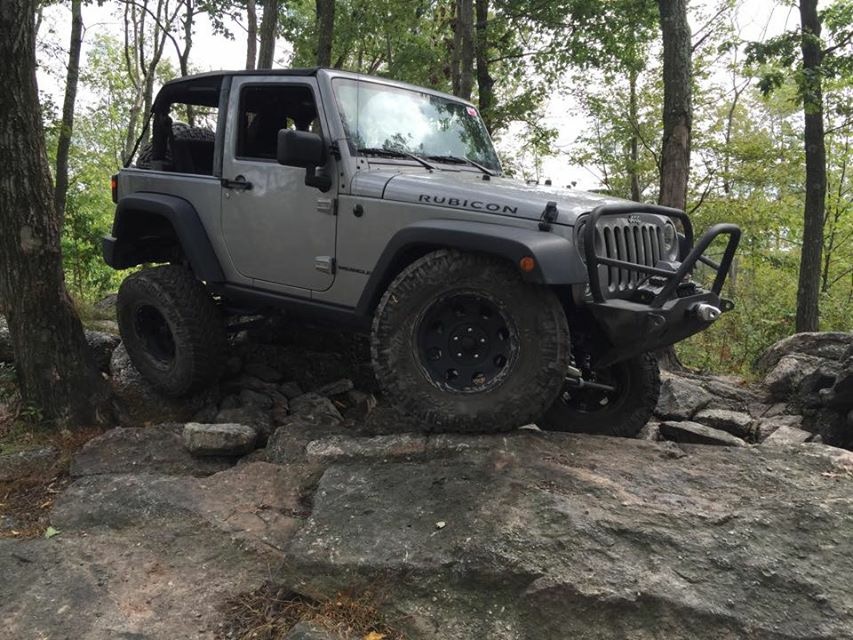 Off Road
Off-road rides have been full of similar experiences. There was so much articulation in this kit that the Adams of Aberdeen Jeep Dealer actually had to install longer travel shocks than would normally be expected for a 3.5" long arm kit. Even with stock fenders, the Nitto 35s had a great deal more space than expected. There is so much space that we intend to install some flat fenders and 37s without changing a thing on the suspension. When we do so, of course, there will be a follow up to spread the word. I am sure you noticed in the pictures, the set up handles a diversity of terrain extremely well. What the pictures don't show is the smooth transition between flex and how quite the whole system is.
The only con I can think of about this lift was self-inflicted but certainly worth mentioning here. When I did the lift I was starting from scratch: wheels, tires, driveshafts, etc. so my wallet convinced me to wait on the drag link flip kit that Clayton offers. I can't emphasize enough that this should be avoided. There are those out there that say "it's a nice to have" but I would say it's essential. Don't lift over 2.5" without considering this mandatory! JK's are renowned for weak steering boxes, just check the forums. While you are doing the flip, it may be a great time to beef up the frame track bar mount and brace the sector shaft but that is another article!