Yokohama keeps pushing the limits of tire design with each new tire they introduce. It's been really interesting testing different brands and styles over the last year and this tire once again offers excellent performance with few compromises.
GEOLANDAR XMT Road Noise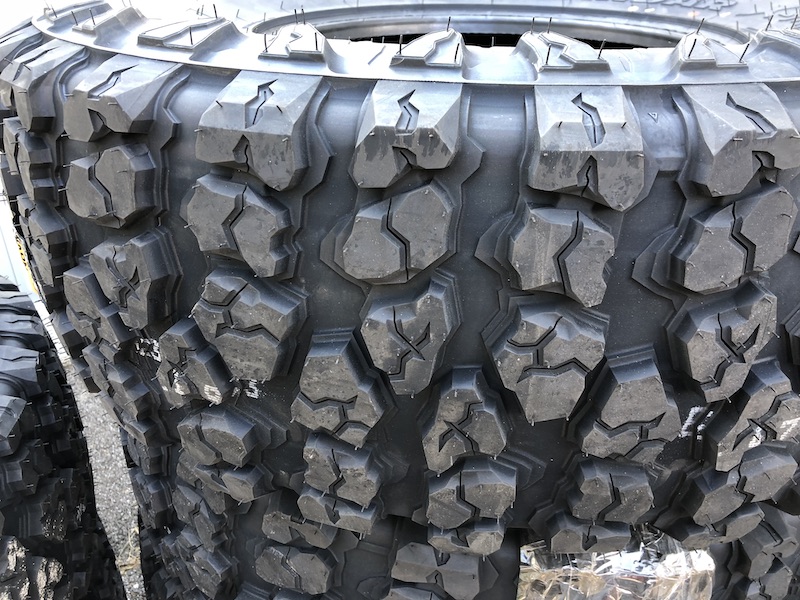 The first thing you notice about the GEOLANDAR XMT is how aggressive the tread pattern is. It's big, it's blocky, and it looks loud. The other you notice as you look closer is the stepped design of the tread, those large blocks have many levels and shapes to lower that road noise and offer extra traction surfaces. Listen to the clip below and you can hear that the average wind noise in a Jeep Wrangler is far louder than the tire noise.
The quietest mud terrain we have ever tested is the X3 from General. The XMT is not as quiet of a tire and with a tread pattern like the XMT has it never would be. There is road noise, a steady low hum when running down the road but the noise isn't so loud you can't ignore it and forget that it is there after a few miles. With the windows down, you hear the tires a little more but they are never obnoxious and depending on the day get lost in the wind noise. My passengers have never commented on them, and people on the street never seem to notice them.
GEOLANDAR XMT Wet Weather Handling
Rain has often been the weakness for larger tires, they tend to hydroplane or offer very little traction due to odd shaped contact patches. Early on we tested some AT tires that I would call dangerous in wet weather. They hydroplaned far too easily.
The XMT suffers from neither issue. The large voids and siping move massive amounts of water. I have yet to hit a puddle, or standing water, that didn't part like the Red Sea in front of Moses. The traction is predictable, with excellent control during acceleration and stopping. Pretty much everything you want in a tire and unexpectedly awesome for such an aggressive tread.
GEOLANDAR XMT Overall Road Manners
Many people will tell you that running a mud terrain on a daily driver is a terrible idea. I am here to tell you it's anything but a terrible idea. Having run both all-terrain and mud terrain tires on a daily I prefer the mud terrain. The AT tires are smoother and quieter but when you need to have maximum traction off-road the MT tire is the superior choice. With today's MT tires offering stellar on-road performance with very little compromise to changing conditions I say run what you want.
We will have an update later once I find some snow and definitely a mileage update with how the tires are wearing. Right now with several thousand miles on them there isn't any measurable wear.