With the advent of mud terrain tires that incorporate many of the features that used to differentiate them from their all-terrain brethren, is there a reason to buy all-terrain tires anymore?
While mud-terrain tire technology has improved leaps and bounds they are much more user-friendly for all around driving, the all-terrain tire is still king when you have mixed conditions and tire longevity is important. Yokohama's Geolandar A/T G015 is a perfect example of blended aggressive performance.
Yokohama Geolandar A/T G015 Dry Traction and Road Noise
Yokohama is using what they call an Enduro compound made with Orange oil and other polymers for long life. We can't yet confirm whether it works or not but with a few thousand miles and several months of trips there aren't any signs of wear and they have not developed any odd patterns.
There isn't a hint of road noise and with the smaller tire and a diesel motor in our Grand Cherokee, you would be hard pressed to hear any road noise anyway.
Traction has been stellar in dry conditions. No slippage on dusty and dirty roads, no issues with panic stops and dealing with Maryland traffic.
Yokohama Geolandar A/T G015 Wet Weather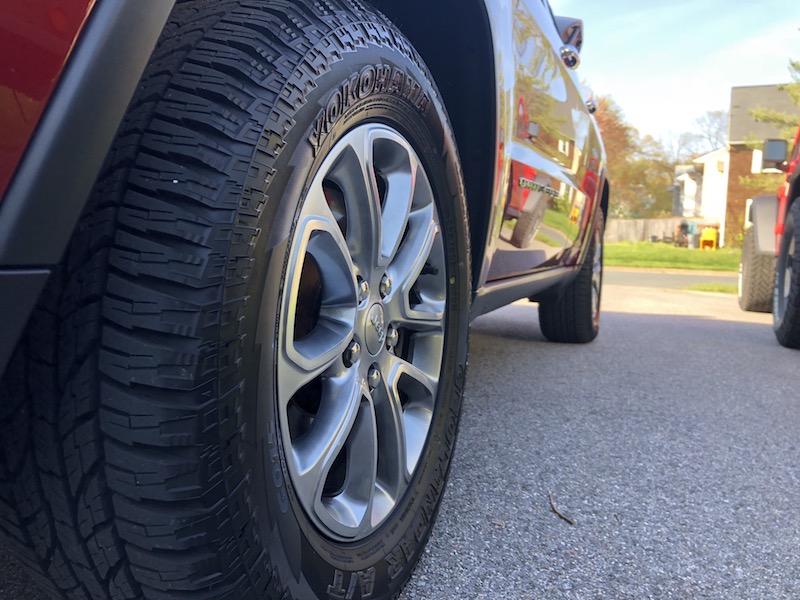 With four circumferential grooves, 3 dimensional siping, and Edgetec grooves water is pushed out from the trad area efficiently and effortlessly. I have gone out of my way to hit standing water and not once has the tire hydroplaned or yanked the steering wheel. If you went fast enough and hit enough water it will eventually overwhelm the tires. For anything you normally see on a paved road these work safely and predictably.
Yokohama Geolandar A/T G015 Tire Quality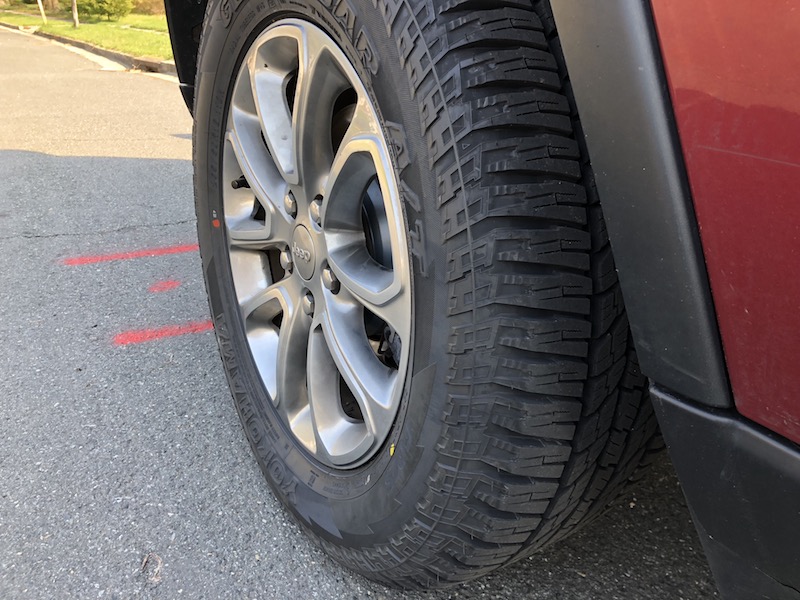 It's the details that matter. This isn't the first set of Yokohama tires we have tested and once again they came out of the mold with excellent tolerances. With less than half an ounce per tire to balance them you know, you will have a comfortable easy ride with excellent wear.
They have a couple other features built in that should aid their longevity and also help when we take these off-road.
There are some pretty robust sidewall protectors molded in, more often found on a mud tire these are going to help with traction off-road but also when you bash that curb at the mall.
Yokohama also added a full nylon cap under the tread. This will help ward off punctures in the tread area. There is nothing worse than fitting tires and picking up a nail in the first few days. That cap won't make these impervious to damage but every little bit helps. Having it fully under the entire tread area is the real bonus.
Thoughts so far.
It's pretty early to give a final grade to these tires. What I will say so far is that they look good, they have a nice aggressive profile, they ride comfortably. My wife's first reaction when I asked her what she thought was how much smoother and plusher the ride was compared to the OEM Michelin tires we took off. I wish everything I did was this easy to make her happier.