Normally I don't write reviews for tires equipped from the factory as they are generally best suited for immediate replacement. In the case of the Nissan PRO-4X, and many other off-road packages, these special editions are fitted with very capable all-terrain tires worthy of an in-depth review.
Design Elements
DuraGen Technology – Off-road durability.
Comfort Balance Technology – A comfortable, quiet ride on the street.
StabiliTread Technology – Street performance balanced with off-road durability.
Three Peak Mountain Snowflake – Improved snow traction.
I am not going to dive into the off-road capabilities in this review so let's focus on the ride, street performance, and snow traction.
Ride Quality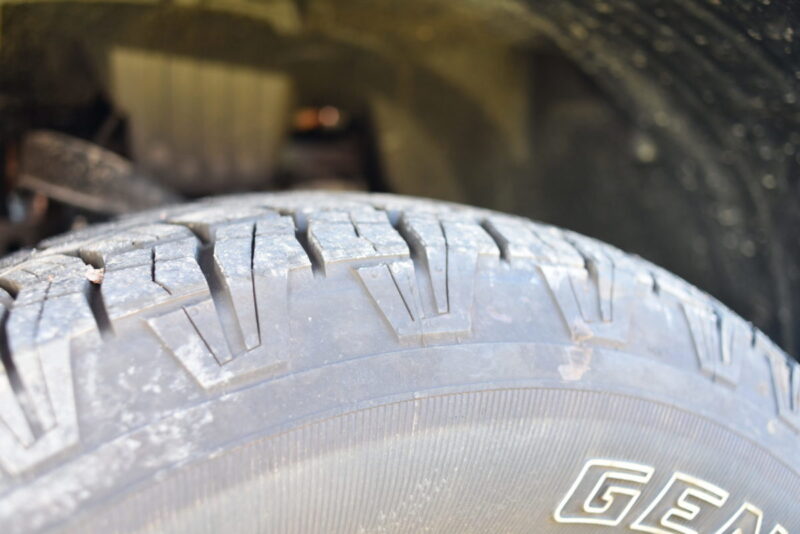 As you would expect from tires selected to be an OEM offering the ride quality is smooth, quiet, and very pleasant. Within the first few weeks of ownership, we drove from Maryland to Maine in varying weather and road conditions.
There isn't any discernible noise from the tires. The Titan has excellent sound deadening but even with the windows wide open the tires are quietly doing their job. They absorb road imperfections and track straight even on the worst roads NY state had to offer.
Running on dirt roads in Maine was a lot of fun. Plenty of traction to keep the truck between the ditches when traveling quickly while allowing for some tail out driving when you put your foot in it. The tires are a lot of fun in gravel and dirt as they allow you to hang it out with excellent control. No snap spins or unexpected loss of traction, just very controllable sliding and spinning.
Snow Traction
Luckily we have had a bit of snow this season and the last round I was able to take the truck out and really test the tires. It was a slippery mess with wet snow covering the roads and just about the worst possible conditions other than severely deep snow.
Acceleration and braking were really very good. Put the truck in 4WD and I was able to drive from a dead stop almost like a normal day. Braking was excellent as well. Careful speed control and brake application allowed me to stop rapidly and with control. Practicing panic stops the tires help up nicely. The combination of ABS and traction available kept the truck going straight and stopped it under control.
Where I had a bit of an issue was cornering. It's hard to completely blame the tires for this and this part of the review your experience may vary greatly from mine. The front end had a tendency to really push into corners. I believe a combination of a heavy front end and not quite enough bite from the tires are to blame. This wasn't an issue on curves but those 90 degree turns from your street of travel to a cross street. Easy enough to deal with, slow down, turn gently, and go on about your way.
Final Verdict
Lovely tires with excellent all-around handling and performance. If your truck, SUV, CUV, or other UV is a street oriented vehicle, and you want a mildly aggressive looking tire that doesn't ride rough, you really can't do much better than the General Grabber APT. Priced at $202.51 per tire over at TireRack.com it's hard to argue with a good value either.