After decades of use the seats in my TJ are a little worn out. A couple hours of driving leave me feeling like I tried to break a wild stallion. Albeit a very slow wild stallion. It was definitely time for some new and preferably more comfortable seats.
When choosing the new seats I used three (3) factors.
Number 1: I wanted a seat that was capable of reclining and could fit into a TJ.
Number 2: I wanted bolsters that kept me in my seat while I was wheeling off-camber.
Number 3: I needed to keep my purchase under $1,500.
Fitment can be tricky.
Fixed seats can be great, but in a two door Jeep they severely restrict access to the back storage area. The Corbeau Baja RS seat has enough range of motion to lie almost completely flat. Plenty far enough for most to catch some shut eye.
Depending on the width of your vehicle you may get more or less movement when installed in your vehicle. I have used these in both a TJ Wrangler and a 1985 Toyota pickup. In the TJ I was able get the full range of motion with the inside edge of the seat just brushing against the center console. The Toyota had an inner roll cage and I could not recline the seat entirely.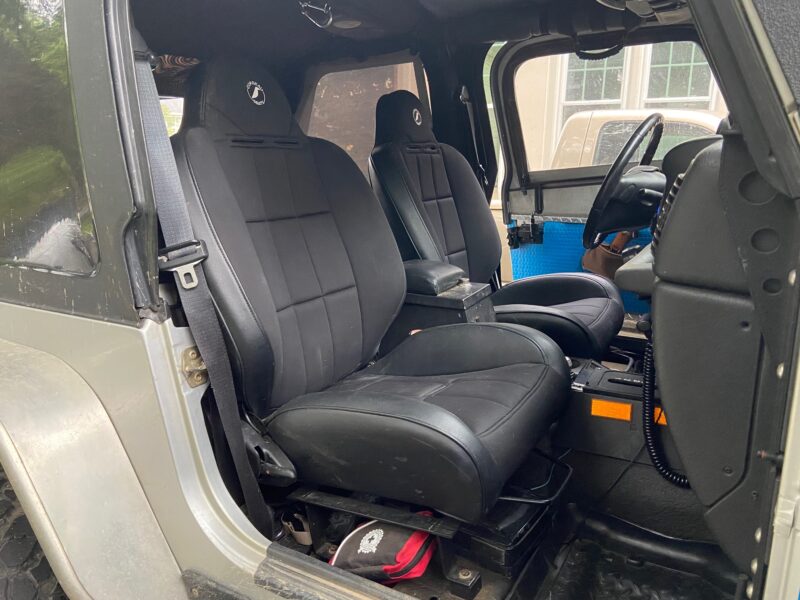 Comfort is paramount.
While seat comfort is very subjective, I went from having significant back pain after an hour of sitting in my old worn-out seats to being able to complete a four-hour road trip without issue. They are plenty comfortable to take a nap in, self verified.
For those that are in colder climates the optional two-setting seat heaters are also a must. Using the factory-installed heaters I have found I am much more willing to take the doors or top off in questionable weather conditions because I know I'll be able to stay comfortably warm in my seat.
How are they holding up?
I've had these seats for approximately two years, and they show no signs of fading or wear. They breathe very well in hot weather and have endured rain, mud, and two very large dogs that often ride as my copilots.
That doesn't mean there isn't room for improvement. If you compare the materials, stitching, and how well the fabric is shaped over the padding to competitors you will see there are superior products, but at a significant price difference. For practical every day use these are great, if you need pretty for your social media these might be a little down market.
Value per dollar.
A pair of black vinyl/cloth seats with pre-installed seat heaters and two sliding seat brackets cost me just over $1,200 shipped to my door from On Point Off-Road. This pricing aligns with other similar brands and models of suspension seats.
I personally think these are worth the cost for the comfort they have provided to me.
Final thoughts, what I would do differently, and what I still like.
After struggling to clean mud from the mesh-like cloth fabric I have kicked myself a few times for not electing to get full vinyl.
Even with that these seats have performed in all weather conditions and have allowed me to endure road trips as long as seven hours in a seat. Installation was a breeze and I am very happy with my purchase.
I may recommend other brands seats for show-quality vehicles, I would not hesitate to recommend Corbeau Baja RS suspension seats to anyone who is seeking comfort on a budget.