If you are like me, then you appreciate a well-organized toolbox. ToolGrid by Mantis is one of the best organization systems I have found on the market.
PROS
Easy to setup
Customizable to fit a variety of tools
Highly space efficient
Can be reconfigured endlessly
Over the years I have collected many different tool sets and have struggled to find a way to efficiently organize them. For my socket drawer in particular, normal socket rails and loose sockets always bothered me. ToolGrid was ultimately the organization system I decided to go with because it looked professional, was space efficient, and could be tailored to my preferences.
CONS
Costlier than alternatives
Time-consuming to setup
No friction or magnetic tool retention
Initial setup involves cutting a synthetic pegboard to fit you drawer and then inserting tool holders into the peg holes. Once you have found a configuration you like you then secure the tool holders using screw. Finally, you can affix labels to the tool holders to make identification of sizes easier. While setting up ToolGrid is extremely easy, it can also be extraordinarily time consuming.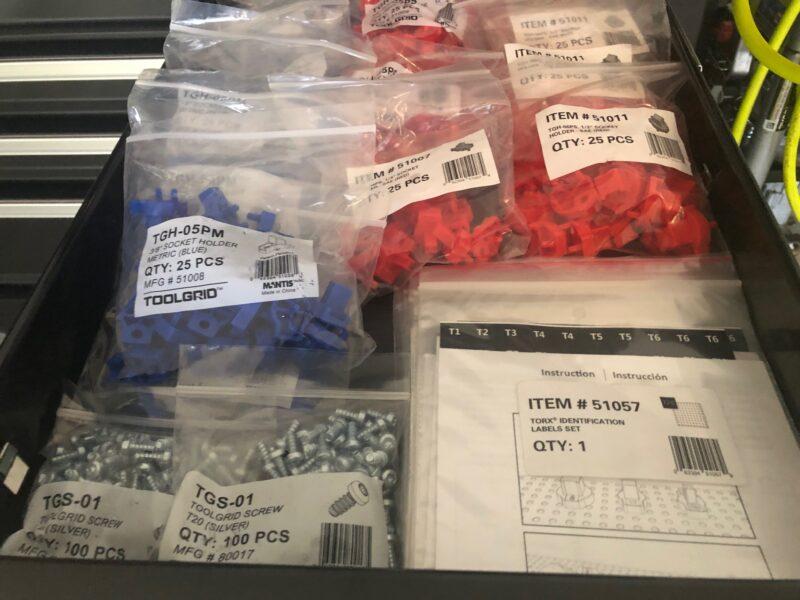 Possible improvements
Earlier it was addressed that the tool holders for Toolgrid do not have a retention system. This makes it an inferior option to some for mobile mechanics or others who may need to move their tools often. One possible option to solve this is to integrate magnets into the tool holders.
My biggest issue is the labelling system (for socket holders). Most of my sockets cover the labels and while that works for putting things back in their place, it doesn't help with initially locating the correct size. One solution would be to add a hole to the center of the socket holders that a size-labeled pole could be placed into. The second solution is to have labeled stickers that have either a transparent background, or a color matching background for the center of the socket holders. This, however, would only work for 3/8 and 1/2 inch sockets and would be more visible on short sockets than deep.
I would also like to see additional color options. Not only for personal preference, but for being able to distinguish different types of tools. Green, for example, should be available for Torx sockets.
Final thoughts
There are cheaper and easier ways to organize your tools than Toolgrid, but few that work as well. If you are willing to take the time and money, this is a great option for creating an organized toolbox that all of your friends will envy.