The story of the evolution of my Jeep is long and unfinished. Like most it started with a small project and then slowly spun out of control. This article will discuss what led me to purchase my TJ, as well as the timeline and decisions behind major upgrades.
The beginning
During my early years in the Marine Corps I had built an awesome 1985 Toyota pickup for rock crawling and desert running. Unfortunately, it was stolen in 2014 while I was overseas.
I was returning to the United States in 2016 and I knew I would want another rig, but this time I decided I wanted a Wrangler. While I loved my Toyota, it took a lot of time and fabrication in a garage. I knew when I returned to the US I would likely not have the luxury of a garage and Wranglers are easy to bolt parts onto in a parking lot so I started looking for a Jeep.
In late 2015 an older gentleman that was in a four wheeling club I previously belonged to was selling his Jeep because his health no longer allowed him to enjoy the hobby. His Jeep was a 2006 Jeep Wrangler X that was mildly built, but more importantly I knew it was not abused. The previous owner was a HAM radio enthusiast who enjoyed mostly green trails and because he was in California, I could safely assume the frame was not rusted out.
I made the decision to purchase this Jeep and shipped it from California to meet me at my next duty station in Virginia in early 2016.
Building for what I wheel, not what I want to wheel
In 2016 my Jeep was my daily driver. I only wheeled about one weekend every other month, so it was always important to me that the vehicle was reliable and drove well on the street.
Now that didn't mean that I wouldn't wheel hard, merely that the primary purpose of this vehicle was to get me to and from work everyday and not simply to overcome the most difficult obstacle I could find. Because of this, 33 inch tires, a 2.5 inch lift, and control arms with fixed bushings worked really well for me.
Once I transitioned to civilian life in 2017, I began to get more free time. With that extra time I wheeled more and I began to form a group a friends that would go tackle trails together. Inevitably this group of friends began to push each other to accomplish harder and harder obstacles.
It was not long before the competition between peers led to individuals upgrading their rigs well beyond mine, which left me having to go around some of the obstacles that they were able to conquer. With these obstacles serving as a goal and motivation to improve my Jeeps offroad capabilities, I began to incrementally upgrade parts as my budget allowed.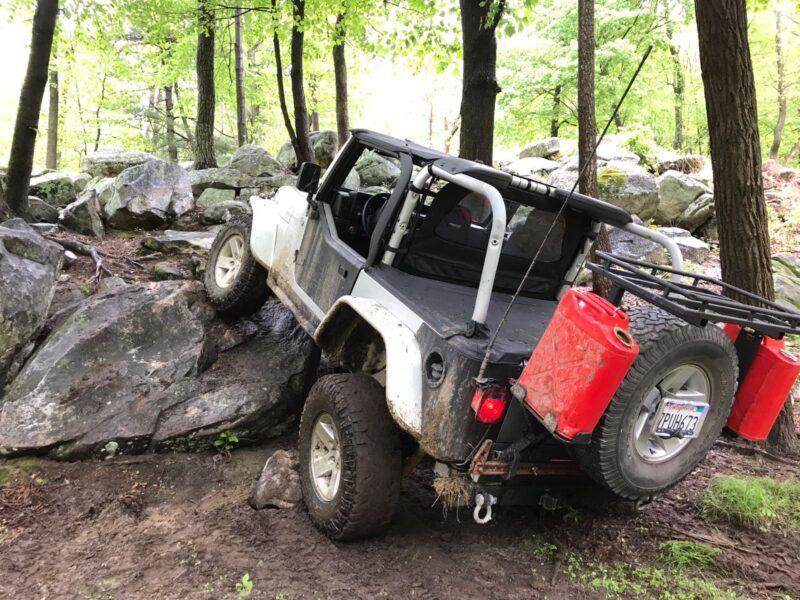 The major milestones
2017 – 35 inch tires, Teraflex belly-up transmission skid plate
2018 – Long-travel monotube shocks, Clayton short arms
2019 – ORI STX struts, 3" Savvy springs, 12" King remote reservoir shocks
2021 – Dana 44, 4" Currie springs, 4:1 transfer case, Clayton front 3-link control arms
If you look at the past timeline you will see there is a slow, but steady addition of offroad parts. 2020 I was deployed most of the year which accounts for why there were no performance parts added, but it was also an opportunity to save money for things to come.
If you look at 2021 you will notice a heavy increase in the amount of offroad parts installed in my Wrangler. This had two primary causes. The first was a result of competing in SLRC, where I broke many parts and was motivated to increase my vehicles capabilities. The second cause, or enabler, was that I got a second vehicle in 2020 that allowed me to retire the Jeep as my daily driver so it could undergo maintenance/upgrades for an extended period of time.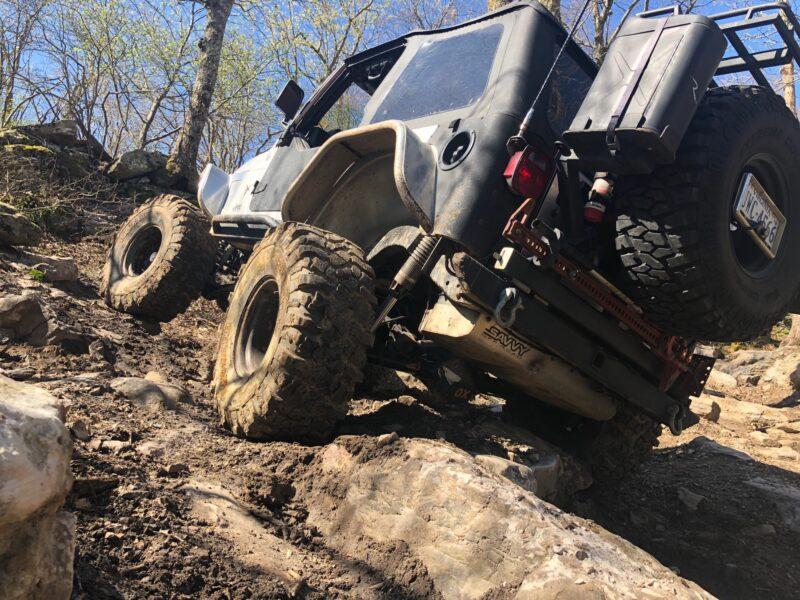 The future
I'm really excited about the future of my TJ. I don't exactly what will happen next, but the harder the challenges I face, the more I am driven to improve my Jeep. While I do intend to keep it street legal, its purpose has transitioned from a daily driver to a dedicated offroad vehicle.
Look for the next part of this series where I will publish a detailed list of all parts and modifications done to-date on my TJ.