Building up a Wrangler for off-road is full of considerations. Once everything is said and done, your wrangler now has a heavy-duty winch, bulletproof skid plates, one-ton tie bar, steel flares, 1350 drive shafts, cargo racks, custom wheels, and that 35 to a 42-inch set of tires!
Okay, let's be real, that's a compact list that we all know is a lot longer. We always try to make sure the vehicle is gaining off-road capability while not losing too much on-road stability and safety. There is an awful lot of extra weight now welded and bolted onto that beautiful machine you love so much and it probably carries people you care about even more ….. so how does it stop compared to stock stopping distances?
Braking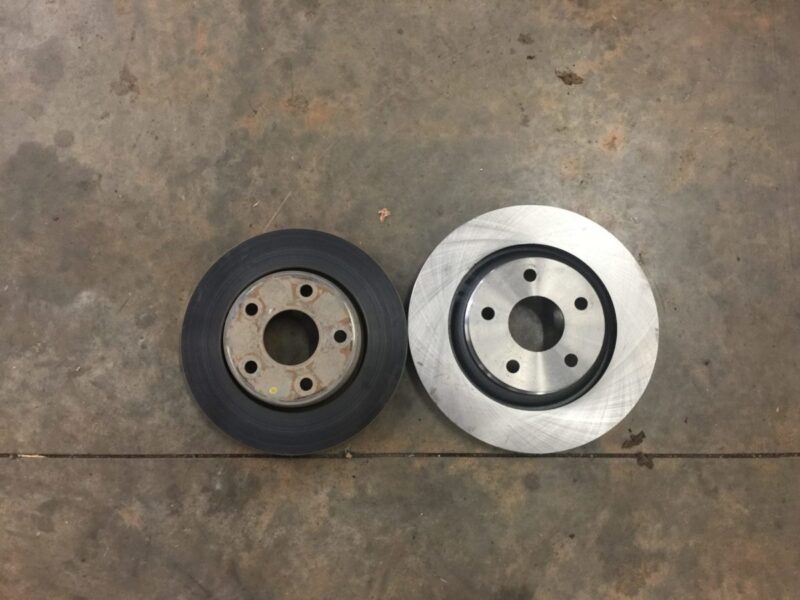 Often overlooked, braking upgrades are essential for vehicles that have so much extra stuff rolling down the road. Your stock calipers and rotors were designed to stop the vehicle based on its factory rated maximum payload which isn't all that much for a Wrangler. Not only do our brakes have to fight against the momentum of the entire vehicle's mass, they also must fight the rotational forces of your wheels and tires. I remember checking my braking distances after adding my first lift and 37s; I had to allow a lot more room to slow down the vehicle.
One of the best performance upgrades I ever did to my 2017 Jeep Wrangler Unlimited Rubicon Recon was installing the Crown Automotive Big Brake Kit and their more aggressive Master Cylinder. After doing a relatively (but somewhat messy – lots of bleeding involved) install, the braking power of the system felt like I could out brake a stock Wrangler. The system was still smooth but, if needed, could turn on some major stopping power.
As you would expect, the install itself was very straightforward. The brake kit comes with new oversized rotors, pads, mounting brackets, and calipers with a pair of 54mm pistons for increased clamping forces. The 13″ vented brake rotors combined with an increased piston area provide additional leverage and clamping power that results in a 22% shorter 60-0 distance when compared to stock! Editors note: More important than the finite stopping distance change was the overall pedal feel improvement. Gone was the "Will I stop?" sensation and replaced it with an "I got this!" confidence.
After adding Crown's larger bore master cylinder, the brake pedal can deliver more fluid volume and pressure to the brakes for even more stopping power. The brake fluid reservoir comes set up for automatic transmission Wranglers, but a simple cut opens the port for a manual transmission hydraulic clutch line.
The kit comes with all necessary hardware to do a nice and easy bolt on install but since you have the entire system apart already, why not replace all your vinyl lines with braided steel lines? We chose to do this, so we would only have to bleed the brake system once and maximize the upgraded system. Unlike several other modifications, this is one that is used every day, on-road or off-road. So, performance for the dollar, this is one of the best mods your lifted Wrangler should have.
After running the system for a while, I noticed that there is quite a bit more dust to clean off the front wheels. Choosing a different pad compound can certainly cut down on that. Also, with the provided pads, you will still get that braking groan that sometimes occurs as you are heavy on the brakes creeping over a sketch boulder. The on-road performance continued to be amazing; all traction systems still behaved as expected, stopping distances continued to be drastically shorter, and the pedal feel provided expected travel resistance. All in all, the system is phenomenal. It gives you the confidence that you can stop all that machine where others could not keeping you, your machine, and those you care about safe on every trip.
Editors note: The kit is priced around $514 and the master cylinder upgrade is another $93.99. At $607 this setup is less expensive than the competitors larger brake kits that are a new rotor, bracket, and pads. For the dollar value, and performance gained there is not a better braking system available.
SaveSave
SaveSave