Carhartt is a US based apparel company that is best known for its durable workwear. When I discovered Carhartt produced seat covers I ordered a set for my work truck and was pleased to find they were built to the same standard as their outer wear.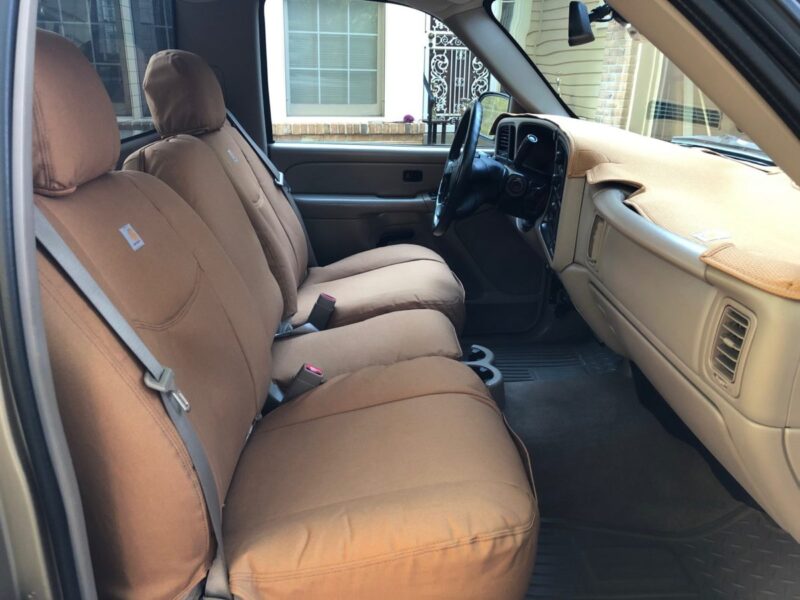 Cost
At $360 these seat covers were in the middle of the pack when it came to cost and what I would consider more than reasonable for the quality. Looking at alternatives for my vehicle prices ranging from approximately $200-$600 depending on the brand, material, and universal fit vs custom fit.
Material and Craftsmanship
Carhartt seat covers are made with Carhartt® duck weave fabric and triple-stitched main seams which really just means that these covers are tough and are more resistant to tearing and fading than many other seat covers I found in a comparable price range. The material may be rugged and water-resistant but I have found that it is still breathable. The downside to the hardy material is that it is rougher to the touch than other cloths/fabrics and is only offered in the colors Brown and Gravel (grey). For those that have pets or often find themselves covered in mud these seat covers can be cleaned in your standard home washer and dryer. Additionally, if you're interested in getting a little extra storage space these covers have a small pocket on the front of the seats between your legs that is just large enough for a pair of gloves or cell phone and a larger pocket on the back that should fit maps or a small first-aid kit.
Installation and Fitment
These covers are made to the dimensions of your specific vehicles interior and look much better installed than universal fit covers. The installation instructions included were more like generic guidance than a specific step-by-step for your vehicle but then again, they're just seat covers. Just pay attention to things like seat belt and seat control cut-outs to ensure you put the covers on the appropriate seats because it's embarrassing to realize half way through slipping these covers on that you're putting them on the wrong side (I definitely did this). The covers slipped on with relative-ease and a few firm pulls. They are kept in place by velcro and a few synching buckle straps underneath the seats which were probably the most difficult thing to secure just due to the limited space underneath the seats.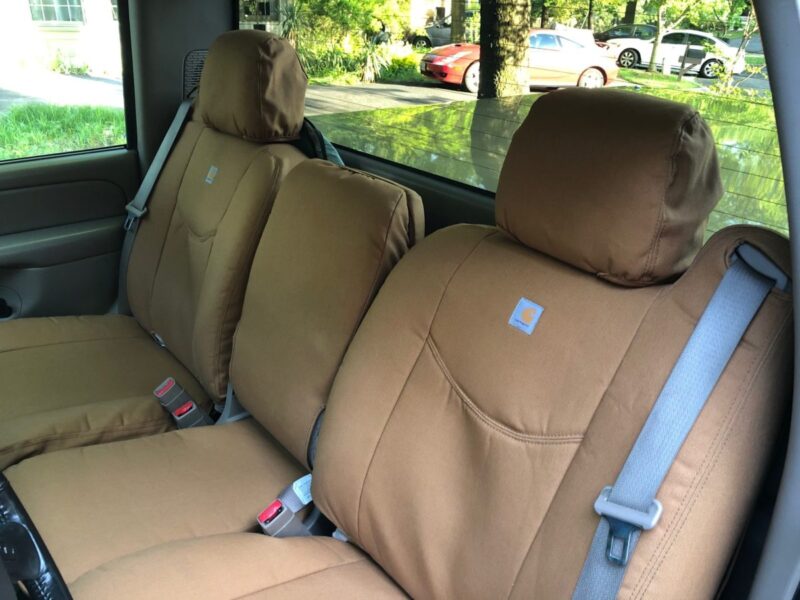 Overall Impressions
These seat covers are not for everyone. From an aesthetic perspective, they leave something to be desired. I wasn't going for luxury or style so Carhartt Brown worked for my truck and what I cared most about was having a durable, washable product that didn't break the bank. I am confident these covers will adequately protect my seats for years and will handle anything me, or my 90lb dog can throw at them so I can say that I am satisfied with Carhartt Precision Fit Seat Covers.