After successfully making a name for themselves in the hardcore off-road market with their bias ply line of tires, Pit Bull tires released a line of radials. They boasted these new radial tires would provide the same extreme grip while also featuring improved rideability and on-road characteristics. Over the last six months, we set out to see just how well they handled the streets on our daily driver TJ.
Pit Bull Rocker Radial Dry Traction and Road Noise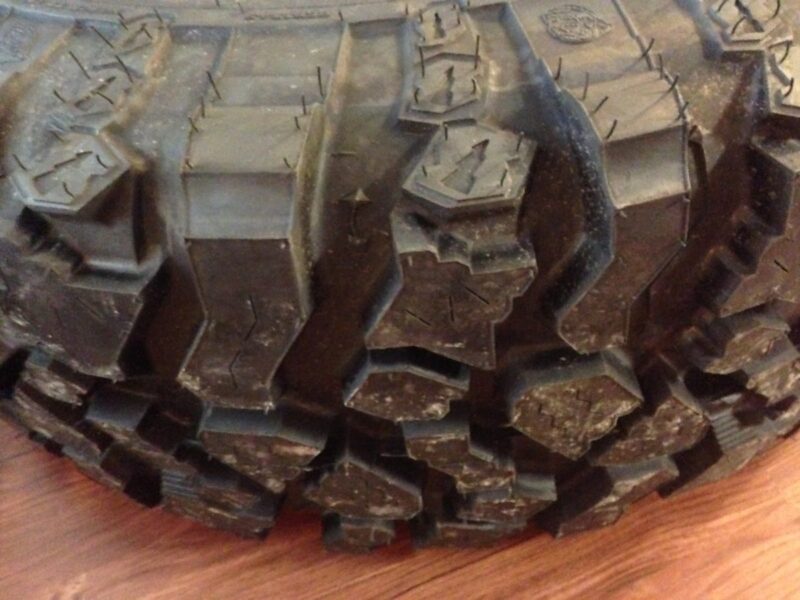 If you look at Pit Bull's webpage you will notice it listing a feature for this tire called "All Bite No Bark" noise resistant technology. Now I don't know exactly what noise this tire is resisting but it's not doing a great job. These tires are LOUD. It begins with a low howl at around 30mph, by 50 mph it sounds like you're riding on top of an industrial fan and at 70mph cars three lengths in front of you on the freeway are looking over their shoulders because they can hear you coming.
Granted I drive either topless or with a soft top so my in-cab noise level is a little worse than something with a hard top, but my point is don't expect to have many conversations in your vehicle at freeway speeds.
Dry traction isn't something I normally worry about when it comes to tires. Not because it's not worth worrying about, it's just something that doesn't come to mind until you have one of those moments where you mash down on the big pedal and hope in the coming seconds you and your vehicle are able to live to drive another day. Unfortunately, these moments have come around a little too often during my 60-mile commute to and from work. Between the deer and other commuters, I've had ample opportunities to lock up my brakes and see just how quickly I can stop. The short answer is that it's certainly not on a dime, but I'd be lying if I said I wasn't impressed at how quickly these mammoth tires can come to a halt, or just how well they handled on the pavement in general without any excessive vibrations or wandering sometimes found in off-road tires.
Pit Bull Rocker Radial in the Snow
While we certainly didn't see our usual amount of winter snow this season, mounting these tires in December gave us more than a few opportunities to see just how well these would do in winter conditions.
Some people shy away from driving during snowy or icy conditions, I, on the other hand, look forward to it. For me, it means less traffic on the roadways, a shorter commute, and with a little luck maybe even an empty parking lot at work to do perfectly safe and legal donuts.
With these tires I had no reservations when it came to driving in the snow, they felt absolutely solid and firmly planted whether I was backing down a driveway or cruising down the freeway. I had no problems maintaining traction while cornering as long as I was driving the speed limit. I know more than a few people that look at those yellow advisory signs planted before a curve and think "I can make that turn faster than that", well in inclement conditions that's not a great mindset when using these tires. Obey the signs! When it came to ice patches I'm not sure there is a tire without studs that does well on ice but this tire broke traction earlier than I had anticipated. The large voids in the tire design that make this tire work well off-road conversely create less surface area where the rubber meets the road meaning a little extra throttle in a corner or braking too quickly would easily cause the Pit Bull Rocker Radials to break traction during icy conditions. That doesn't make these tires bad in winter weather, just don't expect these things to stop any faster in inclement weather because of their aggressive design.
Pit Bull Rocker Radial Wet Weather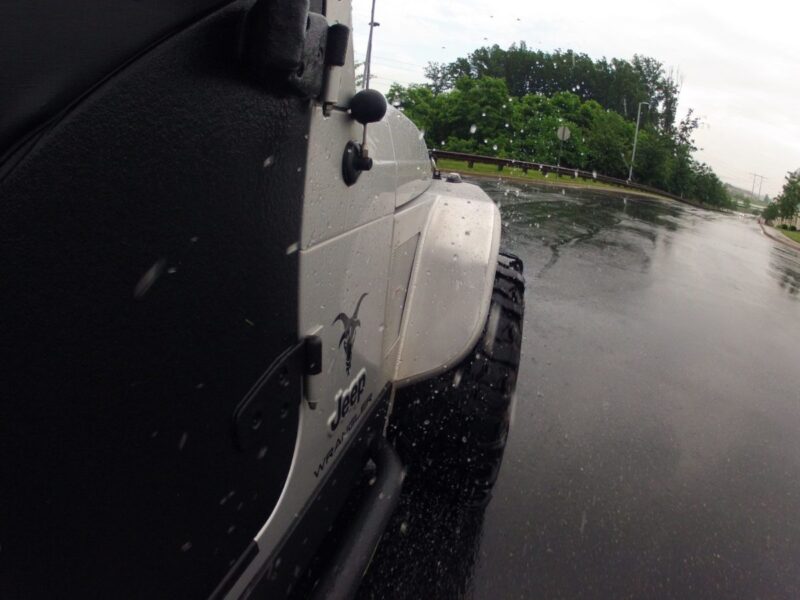 Here at 4WAAM we never quite grew up and we still have a special place in our hearts for puddles, in fact, the bigger the better, especially when you have a good set of tires to keep you in control.
The bottom line is wet conditions are not something that is going to stop these tires, whether it be a flooded road, a heavy rain, or the occasional roadside puddle. These tires were able to handle anything we encountered on the pavement and then some. What we will say though is make sure you are driving around in the rain like you are in a lifted vehicle and not a sports car with these tires. Their design includes siping and wide voids to reduce the risk of hydroplaning, but the wide voids come at the cost of losing contact area on the pavement. So while I felt safe and in control while driving in wet conditions, I also had to remain cognizant that the limited contact patch meant that in the corners and when applying the brakes sharply I would lose traction easier than with a tire that had smaller voids in the tread. As with any time you drive make sure to evaluate your environment and adjust your driving habits accordingly.
One last thing to keep in mind is that these tires throw water everywhere, so if you don't have fenders or flares that cover the entire width of the tire be prepared for your windshield to receive its own little shower from the road water these tires toss around.
General Tire Quality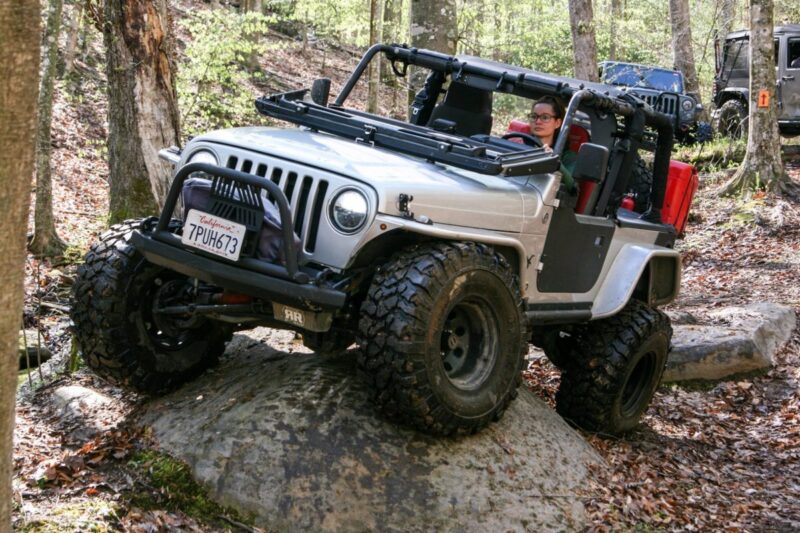 It doesn't take a trained eye to see that a lot of thought and effort went into the design of these tires. It's a softer rubber compound than you will find on most radial tires which means it will wear a little faster. You're trading tire life for grip and based on current wear I am expecting to get at least 30,000 miles out of these tires. That isn't terrible considering how aggressive the Pit Bull Rocker Radials are. They're also not light weighing in at just over 80lbs each, they balanced easily and they measured near true to size with my 35-inch tires sitting in at 34.25 inches in diameter when filled at 30psi underneath the weight of the Jeep. I will also add that there is a slight vibration throughout the vehicles full range of speed with these tires, comparable to many mud terrain tires with similar lug sizes.
The Wrap Up
For a daily driver the Pit Bull Rocker Radial probably isn't the tire you want simply due to noise, vibrations, and tread life, but I can't speak for everyone. I use my TJ as a daily driver and I love these tires. Keep in mind I normally have no passengers to worry about communicating with over the roar these things create and I would rather sacrifice road comfort to perform better off-road.
These tires have a good price point, I was able to pick up four tires for just over $1200. The style is unique, mean, and I don't go a week without getting a compliment from someone.
The bottom line is that the Pit Bull Rocker Radial does exactly what it was designed to do, has the road manners you'd expect from such an aggressive tire, and while its not a top contender for a good road tire it's not a bad option for a vehicle that sees both road and trail use.
If you are curious what we thought of the Pit Bull Rocker Radials off-road performance check out our article here.