First things first, a big shout out to AMain Hobbies for supplying the Vanquish axles. Which makes this review a little different. We have a product from one manufacturer provide by a different entity. Let's see how it turns out together.
Vanquish – Currie F9 Portal Axles for the SCX10II
The F9 Portal axles create extreme amounts of ground clearance under the center of your axle, increasing the clearance by 1/2″+ (13mm). This provides the equivalent of a tire over 1 inch taller than what is on your vehicle. The advantage of the Vanquish Currie F9 Portals is the gear reduction inside the portal (1.67:1) which can be adjusted with optional gear sets (1.4:1 Overdrive). By adding reduction at the portal, less torque is transferred through the other upstream components in the drivetrain. These axles are a direct replacement to any Axial AR44 axle, using all stock links.

From Vanquish Products
Previously on 4WAAM – "What the Diff – Portal Axles Explained" we delved into what a portal axle is and what makes it awesome. Considering that most of us drive our RC trucks far harder than our 1:1 off-road rides portal axles can be a real benefit. I know I bend tie rods like I own the metal plant.
Quality costs money and these axles are "high" quality.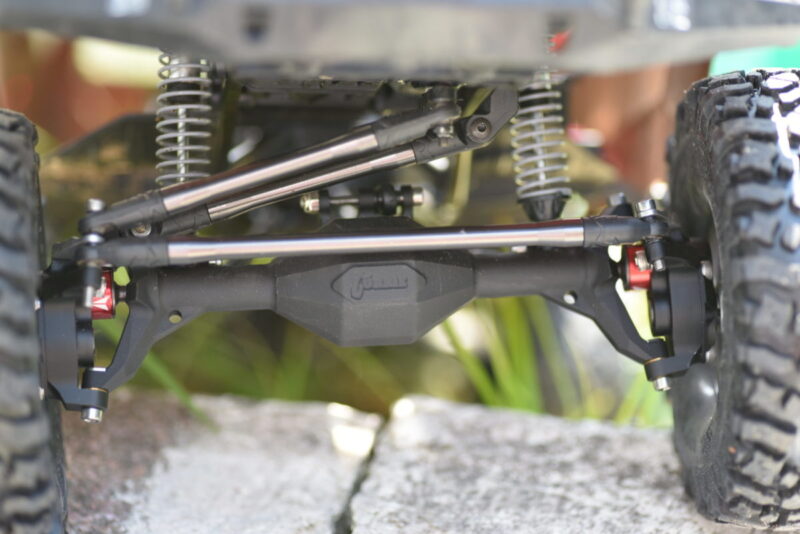 All puns aside the Vanquish axles are not cheap. At $299.99 for the front SCX 10 II axle and $199.99 for the SCX 10 II rear axle, you aren't buying these for some weekend bashing. These are serious pieces of equipment with the materials and craftsmanship to go with it.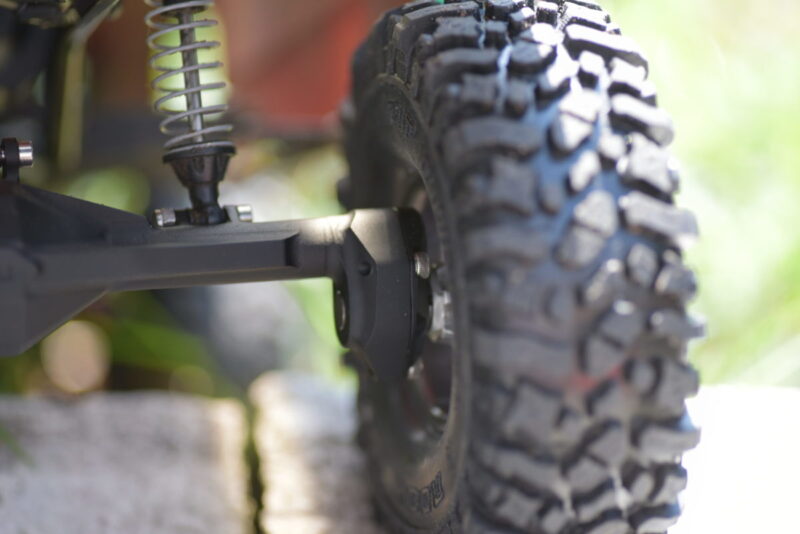 These are full metal housings with precision machined surfaces.
Chromoly AR60 size VVD axle shafts come preassembled
Chromoly stub shafts with 6mm design at the drive pin which tapers down to a 5mm thread for ultimate strength
Chromoly spool
Portal box built into the included knuckle with bolt on high steer arm for double shear mounting
13mm increase in ground clearance
Brass knuckle bushing from the AR60 axles are used in place of SCX10-II sized for more durability
Complete Fast Eddy Bearings kit
Double shear shock mounts
There is some bad.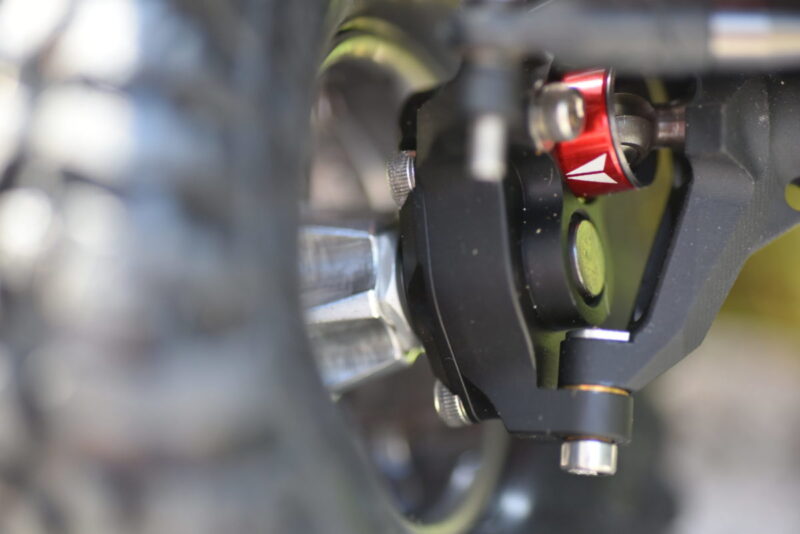 The bad comes down to a couple of easily solved issues. These issues cost money and can be really annoying due to limited availability.
The first major hurdle is finding wheels that fit. Vanquish makes wheels that fit perfectly using their SLW hub system. Getting your hands on their wheels proves to be another matter. Sold out, back ordered or ugly kept us from finding wheels for quite a while. In the end, the wheels we ended up with were worth the wait but if are doing this upgrade make sure to plan ahead!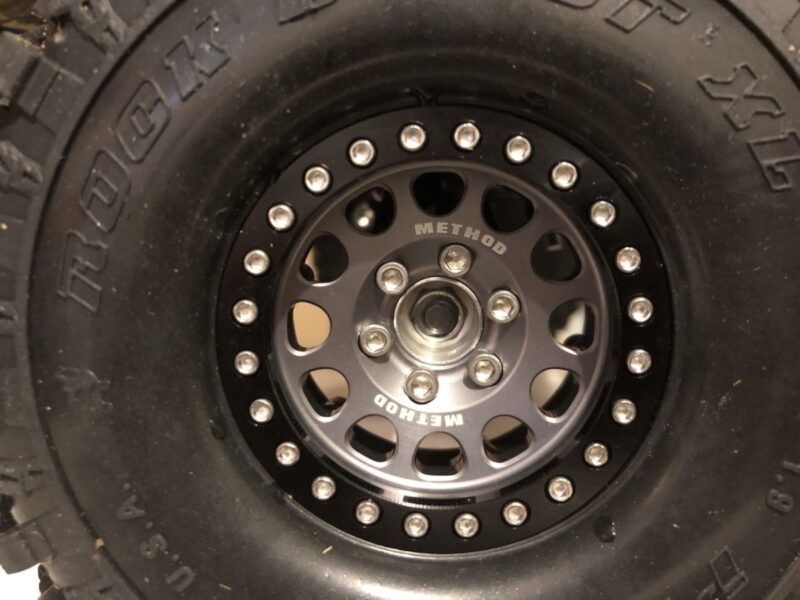 Hurdle number two involves the wheels one more time. Those wheels require a special 8 mm nut driver. Vanquish sells a kit with 3 drivers for $49.99, or a replacement 8mm that is perpetually out of stock. I had to machine down an existing nut driver to get it to fit in the opening of the SLW hub.
How are they to use?
I didn't cover assembly of the axles because there isn't anything special about assembly. Follow the directions and put them together. They aren't any more difficult than standard AR44 axles. The extra steps for the portal boxes are simple and easy.
The driving characteristics of your rig will change dramatically. Beyond the extra height you can approach obstacles completely differently to a standard axle equipped truck. Check out the video to see what I mean.
There will be more videos upcoming of some trail time with the new axles and tires. We also have a review of the ultra powerful servo the ProTec 370TBL and Hobby Wing's brushless crawler kit.