Trackbars are not sexy pieces of kit. They are utilitarian, functional, and very important but in all honesty about as sexy as a mud pie.What trackbars need to be is strong, they need to provide control, and they need to provide ride quality and compliance.
TeraFlex Forged Trackbar
A trackbar, also known as a panhard bar, is a suspension link that provides lateral location of the axle. It does its best to keep the axle centered under the body at ride height.
"The TeraFlex JK rear adjustable trackbar is 230% stronger than the factory trackbar and uses OE style rubber bushings with an additional rate plate for superior handling and responsive control. This adjustable trackbar allows lateral adjustment of the axle for proper axle alignment.
No bracketry changes are necessary, and it is a complete bolt on component. The trackbar is designed to maximize rear passenger spring clearance and cycle through the full movement of suspension travel without interfering with other components. This trackbar can be used with or without a trackbar relocation bracket. Fits all JK Wrangler models with 0″-6″+ of lift."
When you first pick up the new bar you immediately feel the extra weight, you know without a doubt it's a stronger more durable part. The collar for adjustment is massive. I have made minor adjustments over the course of testing these as suspension parts were changed to keep the axle centered, these large OE style clamps and large bar make the adjustment a simple operation. Loosen the clamp and use your hand to turn the clamp, no pipe wrench, no taking the track bar off and guessing, twist measure and tighten.
Our test vehicle is rather unique when it comes to cycling suspension components. With 9 inches of height adjustment you can easily figure out if something will bind, hit other components, or isn't made properly. These trackbars cycle smoothly, silently, and have shown a very durable finish.
The Wrap Up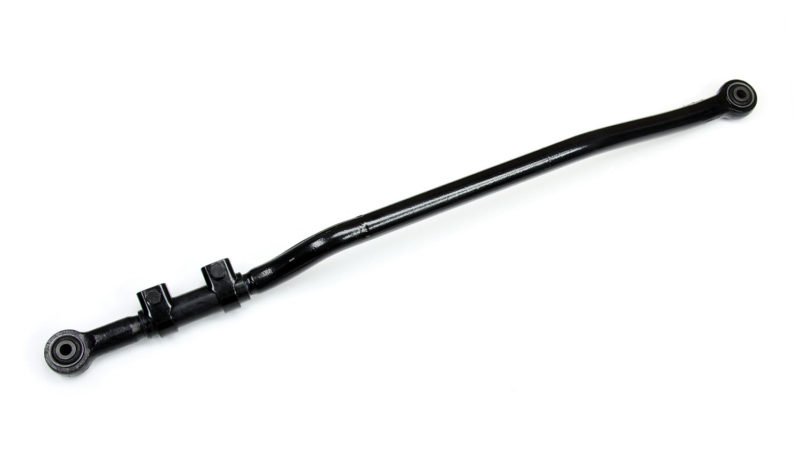 For us it's simple, these are massive, strong, and durable components that can handle a ton of abuse. The fact they are adjustable while connected, easily serviceable, and look massive makes it easy to rate these a very solid buy for anyone looking to upgrade their trackbar.
The rear is $251.99 part number 1754418 and the front is $261.99 part number 1753418. These prices are higher than some bars but most don't offer the ability to adjust it while mounted.